after Wisława Szymborska

I prefer black tea.
I prefer the green olives.
I prefer depth to shoreline, the marshlands
to the safety of the riverbed.
I prefer noticing.
I prefer to bend the corner of the page.
I prefer to let the rice be.
I prefer to be curious.
I prefer to wash my vegetables.
I prefer the pop of my teeth
through the apple skin, to the smooth grain of its flesh.
I prefer Madrid to Barcelona.
I prefer wandering.
I prefer to breath.
I prefer to be spanked.
I prefer duende.
I prefer the dad who cooks breakfast
to the one who drinks.
I prefer not to trust my wiring.
I prefer to pin the tail on the donkey.
I prefer a soft mouth—to be kissed often, deeply.
I prefer heat.
I prefer the authenticity of your flaws
to the implausibility of perfection.
I prefer the palest flower of your heart to the red one.
I prefer the bullet in the gun
to sweet blood syrup.
I prefer the symmetry of placement
to the absurd chaos of the random.
I prefer to wait my turn.
I prefer to list the ways I am alone,
to accept this ripe truth.
I prefer to say less.
I prefer you.
I prefer never to regret
what I've had to do to survive.
---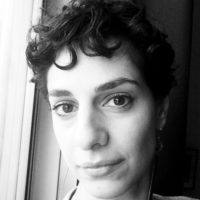 Sabrina Hayeem-Ladani is a native New Yorker, poet, and multi-genre performer. Her work weaves poetry, dance, and song to explore themes of love, family, grief, and what it means to human. She has performed across the United States, as well as in Europe. Sabrina's poems can be seen in various publications such as in the anthology
So Much Things To Say: One Hundred Poems of Calabash
(Akashic Books), and
The Wide Shore
, a journal of global women's poetry. She currently resides in Brooklyn.
featured image via
Alpha on Flickr
.