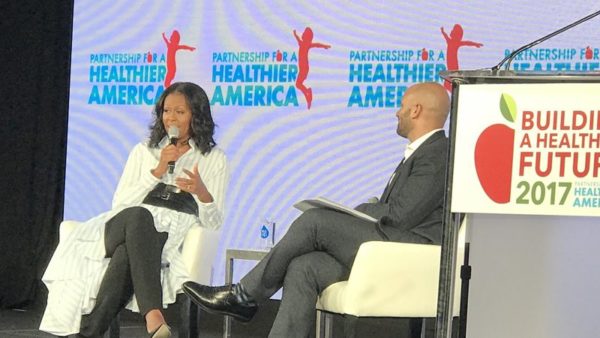 Former First Lady Michelle Obama on the Trump administration's school lunch changes…
When it comes to feeding kids a healthy diet, "it's not politics, it's parenting," Michelle Obama said Friday.

And then she got a little fired up.

Without ever naming President Trump, the former first lady took aim at changes the administration announced last week that weaken some of the school nutrition standards she championed.

"Think about why someone is OK with your kids eating crap," she told the crowd at the Partnership for a Healthier America conference.

"We gotta make sure we don't let anybody take us back," she said as the crowd cheered. "Every elected official on this planet should understand: Don't play with our children. Don't do it," Obama implored.
Read on at The Salt.