She decides that we need to celebrate, takes me to buy shoes:
black suede ballerina flats to show off the high arch of my foot.

I wear them out of the store, dancing and limping.
Next is dinner: we gorge on things we can't afford to eat—

lobster, scallops drenched in butter lifted to our lips delicately
as a surgeon would an organ to the one who awaits it.

We wash it down with the best white wine on the menu.
Mashed potatoes on our forks, we rant about boys, the trip to Texas

where a cowboy made love to her with his boots on. Later,
after warm apple pie, she leans in close, whispers

you almost died.

She never asks to see the plum scar, where the skin purpled, swollen
from the force with which they pulled me from the tracks. Instead,

more stories about the Texan. Gulping down the last swig of wine,
she pays the check. My treat, she says with a wink.

And though I had promised myself I wouldn't, I can't help
but see her as the survivor—

Hers is the door that death passed over. She is the one
that kissed the tumors back hard on the mouth, dissolved them like candy

on her tongue.
---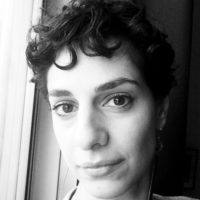 Sabrina Hayeem-Ladani is a native New Yorker, poet, and multi-genre performer. Her work weaves poetry, dance, and song to explore themes of love, family, grief, and what it means to human. She has performed across the United States, as well as in Europe. Sabrina's poems can be seen in various publications such as in the anthology
So Much Things To Say: One Hundred Poems of Calabash
(Akashic Books), and
The Wide Shore
, a journal of global women's poetry. She currently resides in Brooklyn.
featured image via
Prayitno on Flickr
.