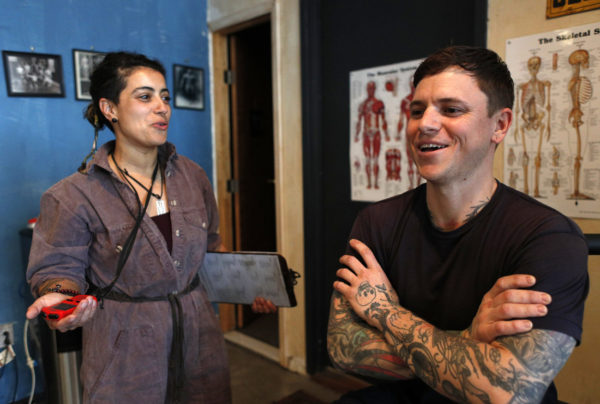 Bringing wellness to the restaurant industry…
Casey Raub can easily deadlift over 100 pounds — not thanks to the gym, but from his work as a bartender at ever-packed Brooklyn brunch hotspot Five Leaves. He regularly hoists heavy boxes of liquor and massive buckets of ice for an endless stream of gin gimlets and grapefruit margaritas. But after three years in the industry, Raub, 35, found that his back pain had compounded.

While pouring a coffee for a customer named Dy Elise, he mentioned his chronic pain to her. Elise, owner of a nearby wellness center called Human@Ease, encouraged him to come in for a rehabilitative workout focusing on his back. "One of the most important things for restaurant workers is to do lower-back exercises, because the lower back is constantly working to stabilize you," Elise says.

Raub began working out on low-intensity machines with Elise, who treats many of the borough's bartenders, servers and chefs. Within weeks, they had strengthened his back and core so he could continue bringing home a mostly painless paycheck.
Read on at The Salt.