For their first date, they met for happy hour. Ben suggested Inde Blu, a classy little restaurant with an Indian inspired—not fusion—menu. Sonia thought it was kind of cute, like– Oh! He's picking an Indian restaurant because I'm Indian. She didn't call him out on it. She told him it was a great idea, that she'd never been, and heard the food was tasty.
     It wasn't what she was expecting. In her 20s happy hour meant sliders, cheese fries, pizza, wings, tacos, chicken fingers, well-drinks, PBR, Yuengling, and shots. But nowadays happy hour wasn't a food-drink special between five and seven. It was any hour past noon that she could steal with someone, dining on cheese plates, charcuterie, Kobe skewers, sushi, avocado fries, oysters, wine, top-shelf liquors poured straight, and cocktails—cocktails that were not listed on the five-to-seven happy hour menu. But never ever had happy hour meant Indian food, even for her.
     Sonia was walking fastish to Inde Blu recalling the two times she met Ben over the last five months. Once at an exclusive menu reveal party for the much anticipated vegan restaurant on the popular E. Passyunk corridor of South Philly that she was invited to by her new friend, who happened to be his pretty-good friend, Stephen. And again at a Toys-for-Tots fundraiser that Sonia attended with Allison because Allison was four swipe-right dates past desperate for a new social scene. Ben and Sonia had chatted briefly at both events, if one can call repeatedly cheers-ing cocktails and catching eyes while laughing, chatting. Ben was one of those guys that everyone felt warmly toward; he was kind, fun, and classically attractive.
     Sonia was half a block shy to the restaurant when she thought—oh no, what if this turns into one of those nights where our conversation centers around me translating Indian foods and curry attempting to find a decent American-food equivalent. She could just see it: Tandoori chicken is like buffalo chicken. Both are chicken. And red. But tandoori is made with a yogurt-based marinade of ginger, garlic and spices. And buffalo sauce is made of, I don't know—sugar and hot sauce? Try the tandoori chicken, most people love it.  
     With that exhausting thought in mind, Sonia walked the last half block at a calmer pace, arriving on time, fully prepared to be Ben's cultural cuisine guide for the evening if that's how it went down.
_____
     Inde Blu was a long narrow space with a cozy bar at the entrance and table seating in the rear. The interior was contemporary with dark hardwood floors and chandelier lighting. Thankfully, the design team managed to create a relaxed energy without the tackiness of turmeric-colored accents and a playlist drowning in whiny sitar music.
     Ben was sitting at the bar, toward the far right end, with a tall glass of water and the better part of a Bengali Tiger Six Point IPA finished. He was talking with the bartender and smiling aimlessly when he looked her way. His eyes warmed in recognition. Ben held his gaze, easily pulling out the bar stool next to him while remaining seated as Sonia made her way over.  She greeted him with the affection a sideways hug, which he returned with a small kiss on her cheek as she scooted on to the stool and said hello.
     He was dressed well, gray slacks, collared shirt, and crewneck sweater. His hair, dark brown and cleanly combed, was styled the way Sonia had seen before, like a modern Ronald Regan, just shorter on the sides and more severely parted left. His neatly trimmed beard was full but not overly thick, affecting the appearance of a gentleman verses a tragic hipster. Sonia was a total sucker for those preppy guys, and she was getting into this gentleman's-beard-look.
     Cocktails were ordered, and Sonia allowed Ben to take the lead.
     "I was thinking we would order a few things. Are you hungry?"
     Ben passed her the evening menu. Sonia glanced over the small plates section. "Oh! There's a lot of stuff that sounds tasty–"
     "They have a great menu, right! I was thinking the naan pizza, the spinach chaat, and shrimp-goat cheese samosas."
     "Let's do it!" Sonia shut her menu—and wow! This man knew his Indian food—shame on me, she thought.
     The food was delicious. Ben was a darling. The drinks were the right degree of strong—they each had three by the time it was said and done—happy hour was a success.
     After that night, they weaved into each other's schedules, making the most of their free pockets of time. Dinner at 11? Sure. I have a ten-minute break before my next meeting, let's grab tea? Yes. Replying to a text after six hours, not a problem, he/she is busy. I'm working all weekend but have Monday off, wanna drive to the shore for the day? Let's do it. I can't make our 3pm lunch– that's OK, I'm swamped here too!
     Sonia and Ben had made a smooth transition from dating to being in a relationship. But it was early and many things were still new.
_____
     About a month in, Ben called, "Hi babe, how's your day going?"
     "Not bad, working from home. How about you?"
     "It's going well. I have an event tonight, but it shouldn't be too late, hopefully done by 10."
     "Oh nice. I cooked dinner. Swing by after your event. There's plenty of food, if you're hungry." Sonia invited.
     "Perfect. I'll text you when I'm wrapping up."
     Sonia cooked all the time. Ben came over all the time. And they ate together all the time. But, even though it was casual, this would be the first time Ben would come over for dinner.
     Ben arrived at 10:30, knocking-knocking-knocking on Sonia's door.
     "What's for dinner!"
     He brushed a quick kiss on her cheek, walking past her, dropping his event-planning bag on the floor, aiming for the kitchen. Ben opened the oven, looked at the stove, eyes and hands ready. He saw the covered Corning Ware dishes on the island counter, peeked inside, covered them again, and looked to Sonia for help.
     "I ate a while back. But, I left the food out for you." she encouraged.
     Ben seemed to understand. The stuff in the Corning Ware was dinner. "What is it?" he asked. Sonia had cooked a few of her standards: chicken curry, cauliflower with peas, cucumber riata, and white rice. They were basic dishes, recognizable even in it's Indian preparation, but there were no Yelp reviews or Instagram pics to preface or validate their tastiness.
     He seemed confused. She was confused. Sonia gave Ben some space to adapt to his new idea of dinner. She poured him glass of wine and re-filled her own. Ben picked up a bowl but decided on the plate. Touching the spoon, he grabbed a fork instead.
     "What's this again?" Unsure, he pointed at the riata.
     "It's a yogurt mix. It makes the food creamy and cools down the spices. There're cucumbers in it. Kinda like tiziki on gyros. Or sour cream on tacos."
     Ben served himself white rice—lots and lots and lots of white rice, two small spoonfuls of cauliflower—no peas, and a huge dollop of riata. He sat down at the kitchen table, shoveling forkfuls in his mouth, eating fast. Sonia was sure he didn't even taste the food. They didn't talk about it, the dinner. He finished and joined her on the sofa with the bottle of wine, and the rest of their evening fell into place normally although she went to bed not knowing what had happened.
 _____
     To be clear, Ben—Benjamin Bridges, was white. His parents were white. His parents' parents were white, and their parents were white. At some point long long ago, Ben's lineage crossed international borders—maybe his origins lay in Italy, Ireland, or Germany, but there was no distinction of that anymore. He grew up in New Holland, PA, a mid-sized township with some grit, twenty minutes northeast of Lancaster and a solid hour and a half west of Philadelphia. This boy was as white as they came. But that's not to say he was culturally unaware or uneasy in mixed settings. No no—Ben was relaxed and intelligent with all varieties of company: male-female, straight-gay-transgender-drag, wealthy-homeless, tall-short, big-boobs-no-boobs, Christian-Muslim-Buddhist-Hindu-Catholic-Scientologist, black-white-yellow—the kind of guy who could have a beer with anyone, feel like he was in the company of his other-half, and exchange some meaningful dialogue. But social behaviors and paradigms on private archetypes don't always mirror, and can be jarring when one ideal seeps into the other.
 _____
     Sonia woke early the next morning with last night's meal still laying heavy on her mind. She slipped out of bed, closed the bedroom door, quietly left the apartment and walked to the gourmet deli around the corner. She purchased all her favorites: eggs, croissants, kiwis and peaches, cheese, thick-cut apple-smoked bacon, fresh squeezed OJ, coffee and two chocolate donuts. She returned to the apartment and made a big breakfast, a buffet of American yumminess.
     When Ben peeked into the kitchen, he looked adorable, all happy-eyes and smiling body, "It smells amazing! What's going on in here!"
     "I'm cooking you breakfast, babe. I don't think you ate well last night."
     "I ate well!" He said as he settled on a barstool at the kitchen island, mixing milk and sugar into his coffee.
     "Ben…" Sonia insisted looking over her shoulder at him.
     "I just thought we were having brussel sprouts. And grilled chicken maybe."
     "Brussel sprouts?" That seemed odd. Sonia continued slowly scrambling the eggs and it began to dawn on her—was Ben foodie cultured? Did he only venture new foods if they were trending? What did he think she normally ate at home? She asked the obvious, "You know I'm Indian right?"
     "But you're American." He said slicing the kiwis. Sonia thought he was being cute and slid the eggs in the empty space on his plate.
     "Babe, if I'm cooking dinner, there's a really good chance it's gonna be Indian food."
     Ben was so deep into his eggs and bacon and croissant he didn't seem to hear her and they finished every last bite of everything.
_____
     Several months into their relationship, Sonia accompanied Ben to a black-tie event for his work. It was a beautiful evening. They strolled around the party, chatted with his colleagues, stole flirtatious moments for themselves, snacked lavishly on crab cakes, filet mignon sliders, mushroom risotto, and drank glorious glasses of dry Riesling. It felt like a scene from a movie, the formality and decadence of it all.
     Hours of socializing passed and the event began to relax; the silent auction table was replaced by a dessert buffet, a coffee bar appeared. They made their way to the patio joining their friends that were lounging on and by the steps, enjoying the cooler night air. Ben sat next to his former boss, Ms. Lisa Stockholm, and Sonia sat next to him. Ms. Lisa Stockholm was a dignified lady, a businesswoman, who lived a colorful life. Sonia was introduced as Ben's girlfriend, and enjoyed being a mostly silent witness to their fond catch-up session.
     The conversation touched on a business venture that Ms. Lisa Stockholm was pursuing, one that would take her to Bangalore, India for the better part of next year. Ms. Lisa Stockholm asked Sonia, politely recognizing that she was very clearly Indian, which Sonia confirmed that she was, if she had ever traveled to Bangalore. Sonia had and absolutely adored the city, which derailed the general conversation as the two ladies lost themselves for a moment connecting on their loves and annoyances of popular Bangalore culture.  
     Lisa looked at Ben. "You should head-up this Bangalore project for me."
     "Lisa." Ben's voice sounded heavy. "I would love to manage any of your projects abroad, just not Asia or India."
     "Why not Asia or India?" Ms. Lisa Stockholm asked.
     "I don't know. It's so different."
     "Well of course it's different. That's not a reason not to go," Ms. Lisa Stockholm laughed. "There's a lot that's the same as well."
     "Doesn't seem like it."
     "Ben, you know I'm Indian right?" Sonia asked.
     "Babe, you're American. You might be Indian too, but you're definitely American."
     Sonia didn't know how to respond.
     Others appeared, approaching Ben and Ms. Lisa Stockholm, and the conversation turned again. Sonia's arm looped around Ben's, she smiled alongside him inwardly wrestling with her thoughts.
     She was startled—not offended, but uncertain why Ben's comment felt so impactful—redefining. She had no direct conflict with his statement. He was right. She was Indian. And she was American too. But for the first time she was directly faced with trying to understand how that translated to her romantic relationships, particularly now, being of an age where potential hinted at a serious future. It was a non-issue when she dated Indian guys who were raised in the states; she assumed they were more or less on the same page. And with Indian guys raised in India, she had long ago formulated lines in the sand on what she would protect of her American-ness if their relationship progressed. But now with American guys (guys of a non-Indian, or similar, background), she suddenly felt she was in the aggressor position—what margin of ethnic tolerance did she require, what aspects of being Indian did she want to share and for her partner to embrace, what was irrelevant.
     She wasn't sure.
     "Babe. I'm going to grab a coffee. Want anything?" Ben asked. Sonia shook her head and he slipped away.
     Sonia watched her boyfriend—kind, fun, classically attractive—stride across the room. She liked his navy blazer and that she was his plus one. Ben got his coffee and stopped by the dessert bar. He popped a mini white-frosted cake square into his mouth and caught Sonia's eyes.
     He gave her a twitch of a wink.
     She blew him a tiny kiss, from across the way.
---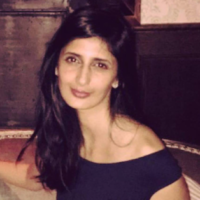 Anju currently lives in Brooklyn and is pursuing her MFA in Fiction at The New School. She is a lover of animal socks, fruits (obsessed), and whispered conversations. And though many cities have been called home over the years, she always seems to find her way back to Philly.
featured image via Grub Street.