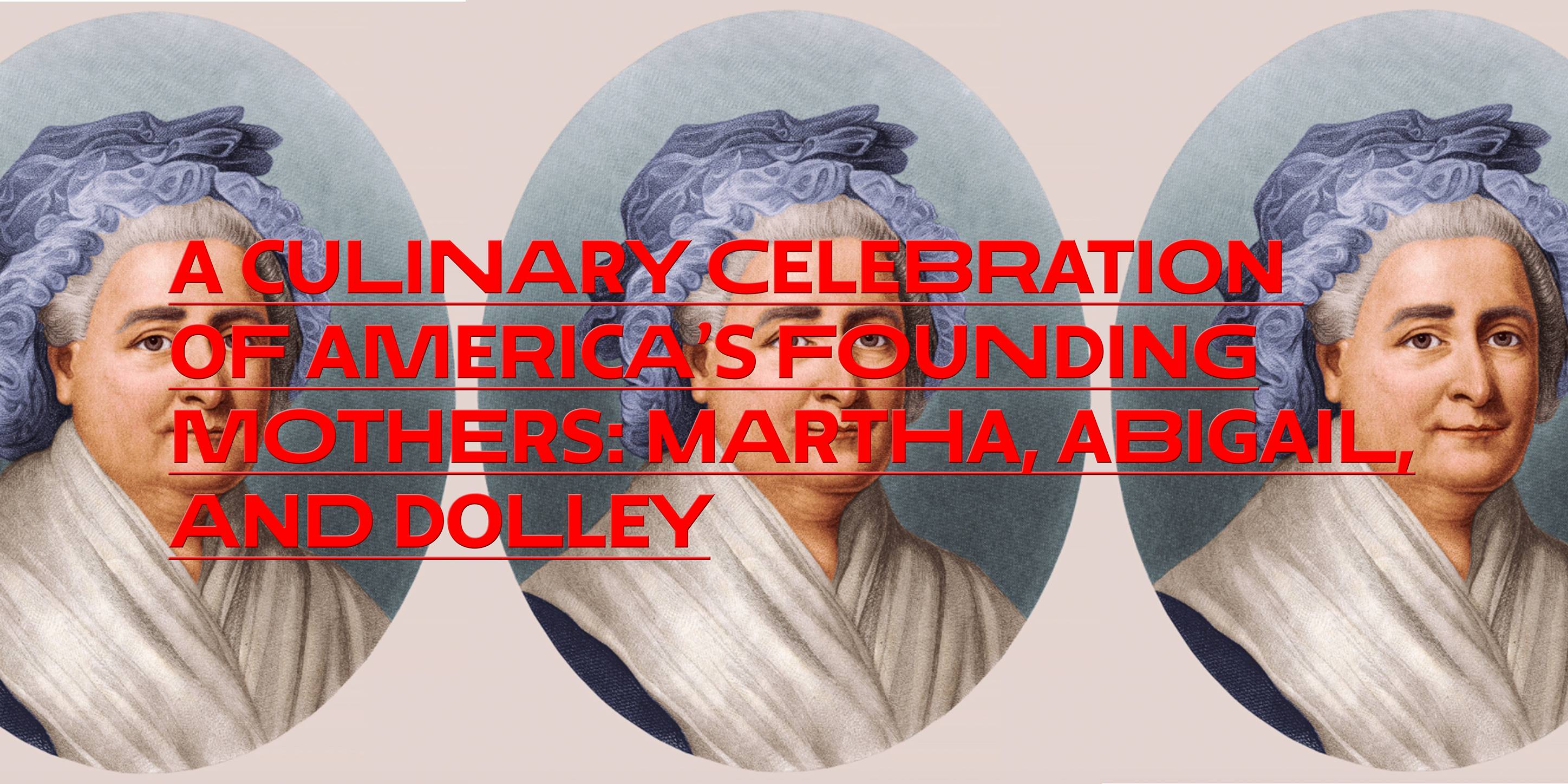 Article by Kelsey Brow; recipes by Joanna Pruess.
On January 30, 2017, food historians Joanna Pruess and Kelsey Brow gave a talk on foodways and the Founding Mothers, to celebrate women's influence on history even before they were able to vote (100 years ago this November, for New Yorkers!).
Case studies were made of the first three First Ladies (although this term had yet to be invented), Martha Washington, Abigail Adams, and Dolley Madison. Two Southerners and a New Englander, each woman had a different relationship with food, shaped by their personal background, various regional influences, and political events.
A vivacious hostess before her husband's presidency, Martha Washington's role was curtailed as nation-makers tried to define what the social life of the leader of a Republic. She was obliged to hold weekly "open house" events, called levées. Blending Republicanism with trappings of aristocracy, the President's wife sat on a dias as citizens from all walks of life came to call.
Seated at Martha's side, Abigail Adams, by nature and circumstance a hands-on housekeeper, learned to incorporate some aristocratic elements when her husband was elected President in turn. Balancing a need to demonstrate power and prestige on an international stage with Republican ideals was even more challenging in these more partisan times as Federalist and Democratic Republicans fought to shape the government and either avoid or start a war with France. Abigail expressed regrets that the Washington's had established a precedent of lavish entertaining as the Adams' family pockets ran less deep.
Ample finances made entertaining far less of a balancing act for Dolley Madison, wife of the fourth President and third "First Lady,," who had enough to juggle between ever greater political divides at home and the possibility of war with the French or the English. Seeing the precedents set for her, Dolley used the rapidly narrowing female sphere of influence (to borrow a term that would come into the vernacular later on in the century) to unite the country through food. She expressly invited political enemies to come to her Wednesday evenings, where food, festivity, and female company fostered friendlier conversations. Dolley viewed the White House table as "America's Table" and made a point of serving dishes from recipes sent in from around the country. Invitees from different regions reported enjoying their meals, but not always knowing what it was they had eaten!
Each of the recipes selected for the Celebration of the Founding Mothers represents one of these remarkable women. Martha Washington's Lettis Tart, from a recipe in her heirloom cookbook is one of the most well-known colonial recipes (The New York Times published it as far back as 1904, nearly four decades before Martha's cook book was famously modernized and published by Marie Kimball), though it was mostly likely written by her first husband's mother or grand-mother perhaps a century earlier. While we don't know if Martha ever had it served to her husband, the traditional recipe is suggestive of the kind of Old World, English food and hospitality (with the addition of local ingredients like Virginia ham!) for which the Washington's would have been known. The blending of sweet and savory flavors smacks of lingering medieval tastes.
Abigail Adam's New England traditions are represented by a pea soup. Thick soups and boiled puddings (like the famous Indian pudding, so called for the primary ingredient corn, a New World food) started the Adams' meals, leaving less room for the expensive meat courses. We know Abigail Adams enjoyed pea soup on the boat to England and sent a cask of dried peas to her sister from abroad.
Dolley Madison was well known for her seed cakes, though no recipe attributed to her or her kitchen survives. Little cakes, or slices of a great pound cake were served with punch or lemonade at her entertainments. The recipe below is adapted from The Art of Cookery Made Plain and Easy, by Hannah Glasse, one of the most popular cookbooks of the day. The recipe is essentially a pound cake, a few recipes for which were also published in the first American cookbook, appropriately titled American Cookery, by Amelia Simmons. Simmons, like Dolley, expressly linked food with national identity: her book also includes recipes titled Election Cake, Independence Cake, and Federal Pancake.
Recipes from this period are scant on measurements and instructions, as cooks would have internalized most of this knowledge. Starting with the period sources, Joanna Pruess has modified these recipes for a modern kitchen. Feel free to alter spices to taste or substitute for available ingredients as our forerunners would have done!
Martha Washington's Lettis & Dried Plum Tart
Yield: 1 (9-inch) tart
Martha Washington's lettis tart recipe was loosely sketched out in the cookbook she was given by her first mother-in-law, General Custis' mother. "Lettis" referred to many different leafy greens, including spinach, chard and, in this case, probably cabbage. The dried plums might have been damson, a variety that grew nearby. Savories and sweets baked in a "coffin" referred to double-crusted pies and tarts, a holdover from early European cooking.
Recipe for one 9-inch double-crusted pie
For the filling
1 pound Savoy or white cabbage, cored, and very thinly sliced
2 tablespoons unsalted butter
1 large yellow onion, peeled and diced
1 (8 ounce) package bite size pitted prunes, chopped
1 tablespoon sugar
2 teaspoons cinnamon
1 teaspoon ground ginger
1 teaspoon salt
1 egg beaten with a little cream or milk, for egg wash
Prepare and roll out the pie crusts, according to recipe directions. Fit the larger ball of dough into a 9-inch deep-dish pie plate, leaving a 3/4-inch overhang. Refrigerate while preparing the filling.
Preheat the oven to 350 degrees F.
Bring a large pot of salted water to a boil. Add the cabbage and blanch until wilted, about 2 minutes. Drain well.
In a large pot, melt the butter over medium-high heat. Add the onion and sauté until golden. Stir in the drained cabbage, prunes, sugar, cinnamon, and ginger and sauté for about 5 minutes, turning often. Season to taste with salt. Cool completely.
Remove the tart shell from the refrigerator. Spoon the filling into the bottom, spreading it evenly. Brush the edges of the tart with the egg wash, add the top crust, press gently to attach, and pinch the edges. Brush the top with the egg wash.
Transfer the tart to the preheated oven and bake until golden, 30 to 40 minutes. Remove, let stand for at least 10 minutes, cut into slices, and serve.
Abigail Adams' Split Pea Soup
Makes 6+ cups
The Adams family enjoyed many soups. They were also an economical way to feed their family and farm help. In The Culinary Lives of John & Abigail Adams, author Rosana Wan writes that John brought the French habit of serving soup from a tureen back home to Quincy. This recipe is based on The Lady's Companion: Or, An Infallible Guide (1743 ed.).
6+ cups water
2 cups dried green split peas, picked over
2 tablespoons butter
1/2 tablespoon dried marjoram or savory leaves
1/2 tablespoon dried mint
1/2 tablespoon dried thyme
1/2+ teaspoon salt
1/2 cup chopped fresh spinach leaves
In a heavy 4-quart pan, combine the water, peas, butter, marjoram or savory, mint, thyme, and salt and bring to a boil. Reduce the heat and simmer until the peas are very soft, at least 2 hours, stirring occasionally. Stir in the spinach, taste to adjust the salt, adding additional water if needed; cook until the spinach is tender. Ladle into bowls and serve.
Dolley Madison's Rich Seed Cakes with Fairy Butter
Yield: about 120 mini pound cakes
In the 18th century, pound cakes were traditionally made with one pound of butter, eggs, flour, and sugar. This recipe is adapted from Hannah Glasse's The Art of Cookery Made Plain and Easy. These mini-muffin-sized ones are topped with Dolley's Fairy Butter (see below). Or bake in two 9-inch spring form pans at 350 degrees for about 1 hour 20 minutes, turn off the oven and cook 10 minutes longer, or until a toothpick comes out clean. 
Nonstick butter spray + flour for mini muffin tins
6 large eggs + 5 large egg yolks
1 pound (4 sticks) unsalted butter, at room temperature
1/3 cup caraway seeds
1/3 teaspoon cinnamon
3 tablespoons orange flower water
6 cups cake flour
3 cups granulated sugar
Preheat the oven to 325 degree F. Lightly spray and flour the muffin tins. Separate the eggs.
In a large stand mixer, cream the butter until very smooth. Add the egg yolks and mix well. Slowly add the sugar by 1/2-cupfuls, beating after each addition until light and fluffy. Mix in the caraway seeds, cinnamon, and orange flower water.
Using a whisk or hand mixer, beat the egg whites until frothy; set aside. Slowly add the flour mixture by thirds to the bowl, beating well after each addition. Fold in the egg whites until blended. The batter may seem a little heavy.
Using a 1 1/2-inch scoop, fill the muffin tins with slightly less than level scoops. Bake for 15 minutes, turn off the oven, and cook 4 to 5 minutes longer, or until a toothpick inserted in the center of one comes out clean. Remove and cool. Ice with Fairy Butter.
Fairy Butter
Dolley loved to entertain. She brought this spread to the White House as a special final touch. It was popular with other Virginia cooks, as well.
4 hard cooked eggs yolks, mashed
2 tablespoon orange flower water
1 cup confectioners' sugar, sifted
8 ounces (2 sticks) unsalted butter, at room temperature
Cook the eggs until hard; peel and remove the yolks. (Discard the whites or use for another purpose.) In a large bowl, beat the yolks, orange flower water, and sugar into a smooth paste. Add the butter and mix until smooth. Cool and, if desired, pass through a fine strainer before decorating the cakes.
Martha Washington's Great Cake (in loaf pans)
Makes 2 (8-inch) loaves
There are numerous versions of "Great Cakes" from colonial times. Many include candied orange and lemon peel, citron, and cherries. Without baking soda or baking powder, cooks used eggs or liquid yeast as leavening agents. The cakes were all fairly dense. This version was inspired by the recipe in Dining with the Washingtons, published by the Mt. Vernon Ladies' Association, and is said to be one of few surviving recipes directly associated with Martha Washington. Her granddaughter Martha Parke Custis is credited with writing it down to share with other family members. This present-day version is updated with dried fruits.
1 1/2 cup golden raisins
1/3 cup each chopped dried pineapple, crystallized ginger, and dried cranberries
3/4 cup Madeira
1/4 cup French brandy
3 cups all-purpose flour, sifted
1/2 cup slivered almonds
1/2 teaspoon ground nutmeg
1/2 teaspoon ground mace
3/4 cup (1 1/2 sticks) unsalted butter, softened
1 1/2 cups sugar
3 large eggs, separated
In a large bowl, combine the raisins, pineapple, ginger, and cranberries with the Madeira and brandy; stir to combine. Cover, and set aside for at least 3 hours or overnight, stirring occasionally.
Preheat the oven to 325 degrees. Grease and flour 2 (8-inch) loaf pans.
Drain the fruits in a large strainer set over a bowl, stirring occasionally to extract as much liquid as possible.
Combine 1/4 cup of the flour with the fruit and mix well. Add the almonds and set aside. Sift the remaining flour with the nutmeg and mace.
In the bowl of an electric mixer, cream the butter until light. Add the sugar, 1/2 cup at a time, beating for several minutes after each addition. Whisk the egg yolks until light and smooth; add to the butter and sugar and continue beating for several minutes until the mixture is light and fluffy.
Add 1/2 cup of the spiced flour, then some of Madeira and brandy, and beating until smooth.
In a separate bowl, beat the egg whites into stiff peaks. Using a silicon spatula, gently fold them into the batter until well blended. Fold in the fruit in thirds, mixing until well combined.
Spoon or scrape the batter into the prepared pans, smoothing the top with an offset spatula or the back of a spoon. Bake in the middle of the oven until a skewer inserted in the center comes out clean, 50 to 60 minutes. (If using one spring form pan, it will take about 1 1/2 hours. Cool in the pan on a wire rack for 20 minutes. Turn the warm cake onto a baking sheet and proceed with the icing (below), if using.
To ice the cake: spread the icing generously only to surface, piling it high and swirling it around the top and sides. Set in the turned-off oven, and let it sit for at least 3 hours, or until the cake is cool and the icing has hardened. The icing will crumble when the cake is sliced.
Sugar Icing
3 large egg whites at room temperature
1 1/2 cups sugar
2 tablespoons rose water or orange flower water
In the bowl of an electric mixer, start beating the egg whites on low speed, gradually adding 2 tablespoons of the sugar. When they begin to form soft peaks, about 3 minutes, increase the speed to high and continue adding the sugar, 2 tablespoons at a time, beating until all the sugar is incorporated and the egg whites form soft peaks. Add the rose or orange water and continue beating to form stiff peaks. Use immediately to ice the cake.