1. the surprising kindness of strangers
2. the smell of those sugared holiday peanuts & cashews
3. the first snowfall
4. when you make the closing subway door
5. coffee everywhere
6. the whirl of the radiator
7. a juicy cheeseburger
8. eavesdropping
9. knowing everyone around you has their own drama
10. that moment of sky when you walk out of a subway station
---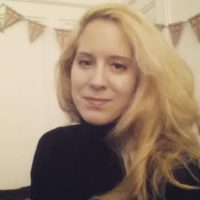 Leah Umansky's
The Barbarous Century
is forthcoming from Eyewear Publishing in 2018. She is also the author of the dystopian-themed
Straight Away the Emptied World
(Kattywompus Press, 2016), the Mad-Men inspired chapbook,
Don Dreams and I Dream
(Kattywompus Press, 2014), and the full length,
Domestic Uncertainties
(BlazeVOX, 2012). Her poems have appeared or are forthcoming in
POETRY, Boston Review, The Journal,
and
Thrush Poetry Journal
. She is a graduate of the MFA Program in Poetry at Sarah Lawrence College and teaches middle and high school English in New York City. More at
www.LeahUmansky.com
.
featured image via Vivienne Gucwa on Flickr.