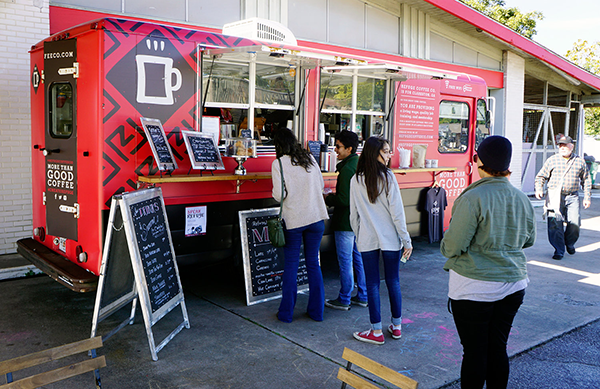 Chalkboard signs announce the menu – latte, cappuccino, chai latte, espresso and hot chocolate, as well as a soda of the day, iced matcha latte, and a "shakerato" (espresso with simple syrup, shaken, over ice). For breakfast seekers, croissants, muffins, morning buns and scones await. Wedges of tomato and goat cheese quiche, crunchy Nepali chatpate and savory sambusa (triangle pastries stuffed with lentils) are readied for the lunch crowd.

Three refugee-baristas are buzzing about inside the truck. Amina Ahyaoui, 32, arrived from Casablanca, Morocco, in 2014. Tha Hlei Iang, 31, is from the Chin state in Myanmar. She spent four years in Malaysia with her husband and daughter before they made their way to Clarkston in 2011. Ahmad Alzoukani, 31, is a pharmacist from Damascus, Syria. He came to Clarkston in September of last year.
Read on at The Salt.