As October draws to a close, I am celebrating the time I got to spend talking to the subject of this month's profile: the RocknRoll HiFives. Perhaps the most enthusiastic and talented family I've ever met, Joe, Gloree, Eilee, and Evren taught me a lot this month about the importance of the breakfast sandwich and having fun with your family, wherever you are. Listen to their song El Sueño and read about their incredible journey with music and food.
---
HR: Did you think about the food in preparation for touring? Was food part of your plans or considerations in this lifestyle of being on-the-go?
RRHF: Part of our planning for tour is around food. We make lists for gear, clothes, toiletries and food. We have traveled in the RV a few times now and have figured out what that best/easiest food options are for us while on the road. In our RV there is less room in the kitchen area (including storage) than at home. Space constraints definitely dictate menu options, and we've learned what basics we need for good meals on the go.
We eat breakfast in the RV 100% of the time, as we are slow going in the morning and enjoy breakfast foods, sipping coffee and looking back at yesterday's adventures. We usually make egg sandwiches or pancakes. Sadly, bacon is not on the menu because we try to keep the type of waste going into the sink light (due to the RV 'system'). Occasionally the kids may have cereal, but it's usually a hot breakfast.
We often have lunch on board the RV too. Sandwiches are easy (we can literally make them on the go) and we get some veggies on them too (lettuce, tomato, avocado). Soups, macaroni and cheese and simple pasta dishes are good go-to options. They are quick and easy prep and clean-up.
We usually eat out for dinner, as dinner is scheduled around our show times and most places we play serve food. If we have a night off we try and grill some chicken or we may opt for a frozen pizza (the RV has an oven!) and a salad.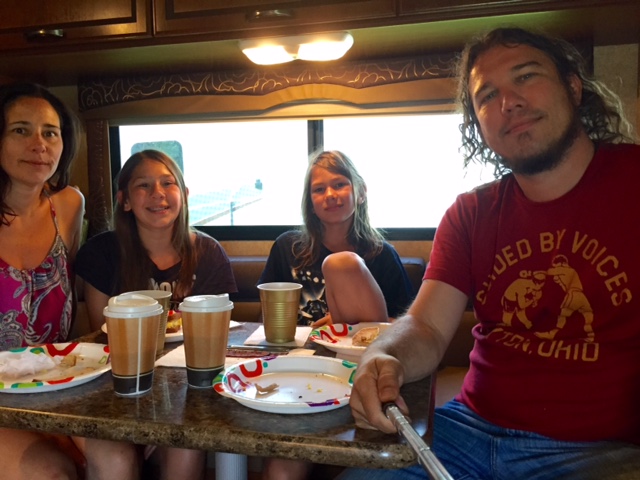 HR: Has your relationship with food and feeding your family changed?
RRHF: No, we don't think it has. On the road, our meals may not be as well-balanced as they are at home, however, we do get bored while in transit which usually leads to snacking. So we opt for nuts, granola bars, trail mix and your usual crutch (including chocolate treats!). Fruit (fresh and dried) are great for traveling too. Also when preparing meals we make some fun videos to help change the mood a bit since we are traveling IN the kitchen, so to speak. We try to change the environment instead of changing the relationship with the food. That's how we change the relationship, by having fun with food. Once at home, we go back to balanced meals – and even on the road, as opportunities present themselves, we find balance.
HR: Are you able to have a "family meal" in a traditional sit-down sense, or have you found that the "sit-down" part of it doesn't matter, so long as you're together?
RRHF: At home or on the road, we have sit-down meals as often as possible. In all honesty, the only meal we don't share is Mon-Fri lunch, as the kids are in school and we are working. On the road, our meals are 90% sit down, even the 10% that are had as the wheels are turning (and Joe is at the helm) are had 'together' – meaning we don't digress to our devices or remove ourselves from the group. We still talk and partake in the meal as if we were at the table all together.
HR: Do you have to improvise when cooking, and if yes, how?
RRHF: Yes, we do improvise when cooking in the RV. Joe is the master of improvising. He opens the refrigerator, the cabinets and finds things to put together to keep it interesting. Not sure if you have seen them, but sometimes we post "Cooking in the RV with Joe" videos during our travels. It keeps things light in the RV and gives our friends a glimpse of our RV fun times. Joe pretends to be a chef with his own cooking show. His character is an RV food expert which opens up his imagination, allowing him to come up with good combinations. Mostly though, he makes us laugh and the food always taste better when we are all smiling.
HR: How often do you eat "out"? Have you eaten or discovered any noteworthy food in your travels?
RRHF: We eat out for most of our dinners. We would say about 70-80%. We have come across lots of great food on the road. Some of our fun comes from local people's suggestions for 'down home road eats'. We particularly loved our BBQ stops in Tennessee during our last tour (we even had leftovers that we added to our frozen pizza…improvisation yum!) and we visited a southern cafeteria style place called Arnold's Country Kitchen in Nashville where our son stated he had the best fried chicken of his life! Our favorite spot in Chapel Hill, NC is Merritt's for their famous BLTs. Sometimes we'll go twice in one trip!
We love when we play a venue and they feed us dinner or give us a major discount. There is nothing more satisfying than playing music for your food!
HR: What have you learned from being on tour that you didn't expect?
RRHF: We learned to take our time and enjoy food a lot more. Also to be more conscientious of what we eat. We can't afford to have any stomach issues on the road. First, we have to perform! Second, even though we are in 'a house on wheels' it is never fun to feel yucky when you are not home.
HR: Is there something you all eat together while on tour that recreates a sense of being at home?
RRHF: Definitely breakfast. It's the start of our day and we're all starting it together. Sometimes a late night snack will have that feeling as well. We're all beat from a long day and rocking hard. We may chow down a late night snack and use the down time to reminisce about the day before getting ready for bed, brushing teeth, etc.
---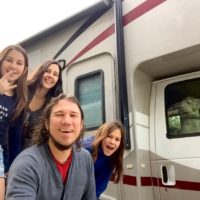 Comprised of parents Joe and Gloree Centeno and their progeny Eilee, aged fourteen, and Evren, aged twelve, the RocknRoll HiFives are the newest family rockers to break onto the scene. And while hardly a brand new act, the HiFives just released their third EP titled "the Beat the Sound the Dragon's Roar" on Little Dickman Records. The RocknRoll HiFives are influenced by a mixed bag of rock n roll, indie rock, noise, punk and super heroes. Music from the Beatles to Superchunk, Guided by Voices as well as the Ramones, AC/DC, Foo Fighters and the Jam with the awesomeness of Evel Knievel and Spiderman. The RocknRoll HiFives enjoy sharing their love for music and proving that you're never too old (or too young) to rock out.