So difficult to fall asleep,
so difficult to wake up.
For each you must fully commit.
Children used to play jacks
sitting on a curb in the street.
Now they stare at a rectangle
of light with such commitment
they look like they are praying.
Money is committed to endlessly
being passed hand to hand.
Air is committed to passing
through us, as is water.
I'm committed to my wife
and daughters, except when
I'm a selfish bastard
and commit only to myself.
When you read a poem
you have to commit to its
obvious artifice; after all,
they are just letters stamped
onto a page. Life is made up
of commitments and half-
commitments, and broken
commitments. Men in suits
wager on the commitments
of others, which is a type
of commitment itself.
My struggling eggplants
have overcome a flea beetle
attack and have now committed
to their purple flowers.
The dark fruit will commit
themselves to weighing
down the entire plant.
Today, I am committed
to sunlight and tall trees.
I am even committed to you
and having come this far
dear reader, I thank you.
---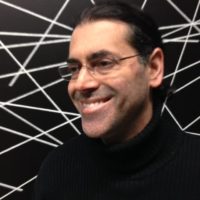 Henry Israeli's poetry collections include
New Messiahs
(Four Way Books: 2002),
Praying to the Black Cat
(Del Sol: 2010), and
god's breath hovering across the waters
, (Four Way Books: 2016). He is also the translator of three books by Albanian poet Luljeta Lleshanaku. He has been awarded fellowship grants from the National Endowment for the Arts, Canada Council on the Arts, and elsewhere. His poetry and translations have appeared in numerous journals including
American Poetry Review
,
Boston Review
,
Harvard Review
,
The Iowa Review
,
The Literary Review
, and
Tin House
, as well as several anthologies. Henry Israeli is also the founder and editor of Saturnalia Books (
www.saturnaliabooks.com
). Visit
www.henryisraeli.com
for more details.
feature image via Chichacha on Flickr.