In early September, we had the pleasure of interviewing Liz from Project Pastry Love, a food blogger that documents her pastry-learning journey through bright photos, yummy recipes, and a dash of humor.
---
HR: Could you tell us the story of how your blog came to be?
LW: I felt regret in my life, always felt like I never followed things through. I went for acting in the city and I gave up too soon, which was probably a good thing, but there was regret there. So, I started to fall in love with baking. Because I couldn't take classes at the time as I had just had my second baby, I said to myself: "I'm just going to teach myself and really follow it through." I got this huge baking textbook about two years ago and started reading it and then finding different recipes all over the place. Then I was like: "Oh! I'll blog about it!" So, yes, it was definitely born out of regret.
HR: Has your baking practice affected your cooking practice? I've always considered cooking really easy and baking really hard because baking seems to be a science for the most part!
LW: I still have a lot to learn, but I bake a couple of times a week and I love the science behind it. Now, I'm getting good at it, but now I notice that if someone asks me something about bread rising, I want to get a cup of coffee, sit down, and discuss it. Shoot, I'm really passionate about it!
HR: Do you ever do an "oops" or a practice run?
LW: Yeah, sometimes I'll try it first. At times, even if it was a complete failure, I've decided to put it up. But not very often. I'm glad when I do fail the first time because I learn so much more. When I do it again and blog, I can really tell my readers why this works because I failed that first time. I find that pie pastry is totally terrifying. When you do it over and over again, you begin to realize that it's in your fingers and that's such a hard thing to write down. It's knowing that line and you can only learn by failing.
HR: Has having a food blog affected your writing?
LW: Yes, because I didn't think about the writing. I wanted to be quick and I didn't want to bore anybody, but then a couple posts in I started to think that I wanted my kids to see this … sort of like a diary. There was one particular post I did where I got personal and was being funny and a lot of friends and family responded to it. That was exciting. I like to do a paragraph first about what is happening in my life, but I don't force it. If there's really nothing, I go right to it. Then, I also find that there is story-telling in the post of how I did it. So then I take a picture and think in the back of my head: "Okay, how am I going to tell it?"
HR: I would imagine what you're feeling at that moment might dictate what you want to create. Maybe one moment you want something hearty or maybe you're feeling the summer time so you want something light.
LW: Yes. I find that with bread and any type of pastry. I find that when I need quiet, or want to meditate without realizing I want to meditate, I choose bread because it's rhythmic in the kneading.
HR: Have positive things come out of this that you couldn't have expected?
I'm friends with food bloggers and bloggers around the world. It's a community that is very supportive of each other and I guess I didn't expect that, at all. I didn't expect the writing, and my love for telling a story. And the photography. When I go to a restaurant I look at my plate and think about how perfect the lighting is. I didn't expect to think along those lines at all.
HR: What is the biggest challenge?
LW: The biggest challenge is promoting myself. That just sucks. [laughs] It's a challenge that I'm also doing it all myself. I don't have anybody taking pictures. That's all me.
HR: How do you promote yourself?
LW: Social media. Facebook. Twitter. Instagram. Bloggers also have these "parties" where you can link up your post. So it gets it out in the blogging sphere. It's kind of how we help promote each other. If we see something we like we'll then put it on Twitter.
HR: Are there other food blogs you love to read?
LW: I wish I had my list here because there are a lot. Of course, there's the Smitten Kitchen. Joy the Baker is amazing. The Wicked Good Kitchen is amazing; she's an amazing baker and she goes into the science of it and there's something very cool about it. I could just read her stuff all day.
---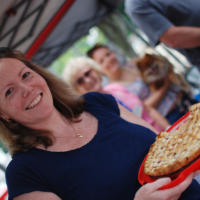 Liz Weidhorn lives in northern New Jersey with her husband Aron, and two
young boys, Cameron and Wesley. As a stay-at-home mom she spends her day cleaning the house, playing make-believe, staring at the large laundry
pile in the corner, and feeding her boys all before hitting the wall at
4PM. She believes that a homemade pie is the perfect dessert, and a that
good vodka martini can solve any problem.
featured image via Project Pastry Love.