entwined silk,
unknown water,
moon tooth, 
sparrow's cackling.
Source: Morse, W. J. "What's In A Name." Soybean Digest 11.3 (1951): 22-24.
---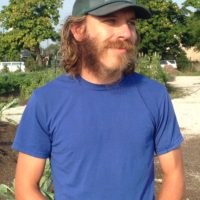 Dave Snyder is a writer and farmer whose poems, essays and criticism have appeared in
Best American Poetry, Gastronomica, Colorado Review, The Iowa Review
and elsewhere. He runs a biointensive vegetable farm for Pisticci Restaurant in New York City. Previously, he managed a workplace training farm in Chicago and has worked as an English teacher, radio producer and cartographer.
featured image via
Wall Street Daily
.