Caffeine and I go way back. In England as a kid, I remember drinking tea for the first time and feeling like an "adult." In my first go-round of undergrad in Chicago, I had to make the decision between milk for my Cheerios or coffee for my brain. Coffee won. Hot chocolate will forever remind me of camping trips with my high school buddies.
So it was like sitting down with an old friend when I read Melanie King's Tea, Coffee & Chocolate, How we fell in love with caffeine.
Using a mix of facts and figures, poetry, recipes, and even origin myths, King weaves a compelling narrative (One legend about the discovery of coffee involves "frisky goats" in Yemen.).
Some facts can be astounding. For example, England imported about a million pounds of tea in 1721 (population of England at the time: about five million people).
What I found the most interesting was the litany of historical figures that King brings forward to advocate for or against tea, coffee, or chocolate. People as varied as Dr. Samuel Johnson, a "hardened and shameless tea drinker," and Donatien Alphonse Francoise (aka, the Marquis de Sade), "France's most notorious chocolate lover," both make appearances in the book.
One tea aficionado, Sir Kenelm Digby, was so specific about his tea preparation that he would steep his tea "no longer than while you can say the Misere Psalm very leisurely."  According to King, this meant two to three minutes, based on the psalm's length in Latin.
John Locke comes to the defense of coffee after an anonymous article, The Woman's Petition Against Coffee Representing to Publick Consideration the Grand Inconveniencies Accruing to their Sex from the Excessive Use of that Drying, Enfeebling Liquor (quite a mouthful, but you get the idea), was published. Locke rejected the idea that coffee was emasculating and instead blamed it on "base adulterate wine and surcharges of muddy ale."
Samuel Pepys, in his famous diary, wrote that he used chocolate to ease his hangovers. Most likely, King writes, he mixed chocolate with wine when he went to the tavern, for a sweet hair of the dog.
Sprinkled throughout the book, images of advertisements and writings about tea, coffee, and chocolate appear. One such piece is a proclamation by King Charles II banning coffee houses. Apparently, he was concerned about all the political talk that took place in them. (There was such an outcry that the proclamation was rescinded eleven days later.)
King's writing shines throughout as she takes the reader on a journey from the Americas and the Middle East to Europe, finally landing in England. The genius of her work is how she seems to subconsciously tie the history of these three caffeinated commodities to the present. In the advertisements and missives of the past, I saw echoes of today's discourse on drug legalization, genetically modified foods, and even vaccines.
Most of all, the book reminded me of how much I like savoring a cup or two, sitting down to write, to read, to think. Knowing the history of caffeine makes it that much more enjoyable.
---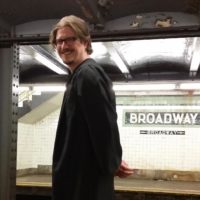 Daniel Gee Husson is a former newspaper editor and actor. His work has been featured in 12th Street. A recent graduate of the Riggio Honors Program: Writing and Democracy at the New School, he writes fiction, which was once described as "so Gen-X," and produces documentaries. If you hear somebody laughing, it's probably him. He lives in Greenpoint, Brooklyn, with his wife.
featured image via *Caterina Neri on Flickr.