No one buys tickets to a poem, or picks the choice seat on row F,
No one takes a date to a poem, no one aims to rest
An arm on a plush chair to share with a choice arm;
There are no advertisements in a poem, except when it's meant
To be ironic. There are no cheese shots in a poem
Where a drawn slice of pizza drips with the hot lava
Of a grocery mozzarella. There are no Coca-cola shots in a poem,
Or beads of cold dripping down the tin like thawed ice.
When the lights go down, desire as no desire in a poem begins:
There's music. And what you're meant to do is take it
For an emotional cue. There are no emotional cues in a poem;
When you love in a poem there isn't a single note that swells.
In movies, the hero reaches for a cigarette by a gusty window
And you know he is sad. I brought the bottle up here
to make you feel cheap, he is told, it didn't work, now I feel cheap.
He calls her Slim and she calls him Steve,
And you know there is something French between them.
And no one does reviews of a poem—oh wait. They do,
But it's always too little, too late. They already know
There isn't one line of poetry that can do what they do in movies.
Except, sometimes, you'll take a girl to a show,
And there's a lusty part you've memorized
So you can time, to a second, when to cover her eyes.
And when you do, the poem onscreen meets the poem in you.
And without that poem, there would be no movies.
When the credits roll, the movies do what they were
Meant to, and you are crying. You step outside,
And the slow eye of a dying sun looks a little bit like god.
---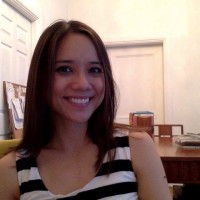 Mookie Katigbak-Lacuesta is the author of three poetry collections:
The Proxy Eros
(2008),
Burning Houses
(2013) and
Tropicalia
(2016). She obtained an MFA from the New School University in 2002, and has since taught in major universities in Manila. Lacuesta has also edited and co-edited various literary anthologies including Metro Serye, a fold-out zine featuring new fiction, poetry and graphic art; and the forthcoming
The Achieve of, The Mastery
, with Dr. Gemino Abad. Widely-awarded in the Philippines, she was the Filipino delegate to the 2012 Medellín Poetry Festival and the 2016 Macau Literary Festival. In 2015, she completed a writing residency for the International Writing Program at the University of Iowa.
featured image via Last One On The Bus.