The world is blue at its edges and in its depths.
This blue is the light that got lost.
– Rebecca Solnit
… As blue is to distance.
– Rebecca Solnit
Of all the things to lose to air: blue.
Entrapment of clouds before it finds

Its way to you. Silhouette of mountains far:
Blue. And should I cross the looming

Far: the farther blue. No cure for the hard,
Hurt stain. No remedy for the ghost.

Even as I know to keep good house:
Know each till for its measured cure:

Salt for wine. Wince of lemon on the linen.
White fluoride on a dirty towel

Where a knife cuts my hand.
They come off easy; I loved you hard.

As obsidian in the slippery dark. As the long
view, and as the mountain. As blue.
---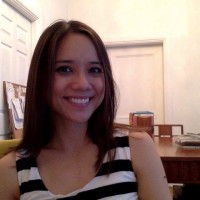 Mookie Katigbak-Lacuesta is the author of three poetry collections:
The Proxy Eros
(2008),
Burning Houses
(2013) and
Tropicalia
(2016). She obtained an MFA from the New School University in 2002, and has since taught in major universities in Manila. Lacuesta has also edited and co-edited various literary anthologies including Metro Serye, a fold-out zine featuring new fiction, poetry and graphic art; and the forthcoming
The Achieve of, The Mastery
, with Dr. Gemino Abad. Widely-awarded in the Philippines, she was the Filipino delegate to the 2012 Medellín Poetry Festival and the 2016 Macau Literary Festival. In 2015, she completed a writing residency for the International Writing Program at the University of Iowa.
featured image via Tim Robison on Flickr.