Neither the risen dough, or the plush
Square with its savory load, drip
Of marmalade or butter—I want the morsel,
The plate peppered with crumbs, the crust
Of bread. I want the edges, jagged where the knife
Kneads its urgent imprecisions, the scrawny
Bit on precious China. I want a small heart,
The color of old quartz and burnt rust.
Let stars do their work on an opposite sky,
Constellate the impossible shape
Of a far boy. Which is to say, I'm through
With want, as a cleaver to his crust.
I'm done the way rain is done
With its tinny shudder crossing glass;
The way the heart is done doing time
In a hard place— a clear shimmer of sky
Begging the same question,
What,
What do you want?
---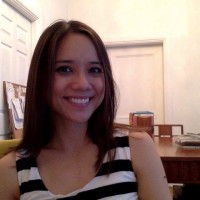 Mookie Katigbak-Lacuesta is the author of three poetry collections: The Proxy Eros (2008), Burning Houses (2013) and Tropicalia (2016). She obtained an MFA from the New School University in 2002, and has since taught in major universities in Manila. Lacuesta has also edited and co-edited various literary anthologies including Metro Serye, a fold-out zine featuring new fiction, poetry and graphic art; and the forthcoming The Achieve of, The Mastery, with Dr. Gemino Abad. Widely-awarded in the Philippines, she was the Filipino delegate to the 2012 Medellín Poetry Festival and the 2016 Macau Literary Festival. In 2015, she completed a writing residency for the International Writing Program at the University of Iowa.
featured image via Pastry Affair.