My husband's recent diagnosis of celiac disease came as a complete shock to both of us. He had been experiencing many months of debilitating symptoms that had been attributed variously to chemotherapy, post-surgery recovery, and an intractable infection. Doctors told us that his symptoms would wax and wane and that he might just have to live with them. 
Finally, and almost as an afterthought, his oncologist Dr. Dean Bajorin ordered the simple blood test for celiac ("highly unlikely, but we may as well be sure."). Within a week we had a preliminary diagnosis, within two, it was confirmed by a biopsy.
The treatment: eliminate all gluten from his diet. Forever.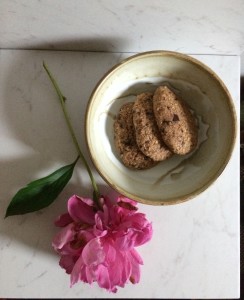 At first, I was reeling. Ever since his surgery in 2015, I had been feeding him precisely the wrong things to feed a celiac sufferer: lots of pasta, bread (especially bagels), simple stir-fries doused with soy sauce, the occasional breaded and sautéed veal cutlet as a treat. I had assumed that these meals would be easy for him to digest when, in fact, they were destroying his insides.
I also assumed that going gluten-free would present a major sacrifice. Turned out that I was wrong. Yes, restaurants are a challenge: There's a big difference between ordering a gluten-free entrée and one that is "celiac-safe." The danger of cross-contamination is real in a restaurant that doesn't have a dedicated space for preparing its gluten-free offerings. My friend Sloane Miller, psychotherapist and specialist in food allergy and celiac management, advises those on restrictive diets to plan ahead and speak with a chef during a restaurant's slow period. It's quite likely that you will be happily accommodated in many establishments. During our recent stay in Ithaca, NY, we visited the Heights Restaurant in late afternoon when the restaurant was closed but while the chef was prepping for dinner. We told him of my husband's plan to meet a colleague for lunch. "Don't worry," said the chef, "you'll have an enjoyable meal" and my husband did. The staff at the fashionable Nix, on University place, was so well versed in the needs of a celiac customer that we knew we could relax and enjoy. Sloane was right, you do have to be careful, but your dining-out life needn't be over with a diagnosis of a food allergy or celiac.
Cooking at home was less of a challenge. In fact, other than purging our kitchen of all products with gluten, there was very little we had to change. For most of my adult life I've avoided processed food and this is where gluten is likely to hide. But there's no gluten in fresh vegetables and fruits, fish and meat and poultry, potatoes, rice and other grains, like quinoa, that I've been preparing for decades. Giving up beer was easy and our occasional martini or Manhattan or Champagne cocktail is just fine, thank you.
Grocery stores now have devoted prime real estate to gluten-free items, proof, as my husband says, that he's "on the most fashionable diet." Alas, many of them are disappointing and filled with ingredients with unpronounceable names and too much sugar. A gluten-free bagel tastes more like cotton batting than the real thing. "Just because they're gluten free," says Sloane, "doesn't mean they're healthy."
I seek out the small local producer: 1 2 3 Gluten-Free in Ithaca, NY, sells delicious baked goods (along with heritage fruits and vegetables) at a local farmers market. The ceramicist and baker extraordinaire Deanna Dorangrichia surprised me with a delivery of outstanding and healthy snacks along with their recipes, so I can make them myself. 
Going gluten-free certainly isn't for everyone and I've read that doing so can even be harmful. Still, for my husband it's an absolute necessity. The silver lining is that the treatment doesn't involve nasty medications with side-effects that are treated with even more medications, and on and on.
We simply do what we've done for a long time: eat fresh, simply prepared meals made with locally raised and grown ingredients. Delicious.