I'm having a fling –

a summer romance
with rhubarb.

That day in June
when I first glimpsed it
reclining on a bed of kale,

my mouth watered,
my taste buds
did a double take.

How is it possible
to have gone all these years
without its sweet tartness
and tangy, peculiar wit?

A bit of an eccentric –

it is, to my knowledge,
the only fruit or vegetable
capable of irony.

If rhubarb were a movie,
it would star someone like a young
Katherine Hepburn, Maggie Smith,
or an auburn-haired Claudette Colbert.

One day, I'll write that screenplay.

But for now, all I want to do
is order another rhubarb soda

while I wait for a slice
of strawberry rhubarb pie.
---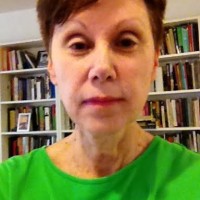 Elaine Equi is the author of many collections of poetry including,
Voice-Over
, which won the San Francisco State Poetry Award;
Ripple Effect: New & Selected Poems
, which was a finalist for the L.A. Times Book Award and on the short list for The Griffin Poetry Prize;
Click and Clone
; and most recently,
Sentences and Rain
. Widely published and anthologized, her work has appeared in
The Nation
,
Poetry
,
The New Yorker
, and several editions of
The Best American Poetry
. In addition to The New School, she teaches at New York University.
feature image by Sugarcrafter on Flickr.