All streams flow into the sea, yet the sea is never full. To the place the streams come from, there they return again.
*
All rivers mourn into the sea, to the sea's oiled and feather nevus . Then the water flushed again to the motorways and flows out again to the sea.
*
All motivational research runs to the sea, but the sea is not full; to the fatty degeneration where the streams flow, there they flow again.
*
All the rivers nibble into flake white, yet the eye hole is not full; to the place where the rivers molt, there they in flash burn go.
*
All the named and nameless flow into the errancies. Yet the sea is not night-blind. To the nectary where the rivers nests. There they nest again.
*
All the rivers empoison the sea; elevating the sea in full mutation; unto the place from whence the rivers come, thither they mutiny again.
*
All the elephants flow with the monophonic sea, yet the sea is never full. The streams are dreaming of the never-ending, and they flow there again. 

*
All the rivers divine the sea's novena, yet the dish antenna is never full; then rivers return to the headwaters where they bargain with concrete.
*
Once desiring streams flowed to the sea, our overborne, overfull sea. Make an offering to your sea, the place your streams flowers, there they will flow again.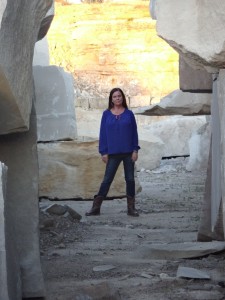 Catherine Bowman is the award-winning author of 1-8OO-HOT-RIBS, Rock Farm, Notarikon, The Plath Cabinet, and most recently Can I Finish, Please? She also edited Word of Mouth: Poems featured on NPR'sAll Things Considered. Her poems have appeared inThe New Yorker, Ploughshares, The Paris Review, The LA Times and Best American Poetry among other journals. She lives on a farm and teaches literature, writing, and poetry at Indiana University.​
Featured image via Wikimedia Commons.