The month of May brings us a poem of the month as well as a poet of the month—enjoy The Feast, a poem in four parts, one bite at a time.
---
2. Late summer

You cried. And now you're here to eat.
10 minutes ago and for how many days
in between, your world lowered
fell beyond your reach. East reversed West.

For right now, without explanation or reason,
you turned right instead of left. And you're here.
See how these good shoes have learned to carry your feet.

On the porch a hummingbird at work
over a favorite flower.

The blue-green leaves of live oak, sun rose,
and what I think might be yarrow.

Before you a bowl of rice soaked in broth,
salmon, roasted meats. And after
all we were made for.

Just this morning you weren't sure of anything.
Now, you can only think of how hungry you are.

Outside, the scent of ferns dying, twilight—
A glass of bitters. Wild garlic. Wild sorrow. Appetite.

---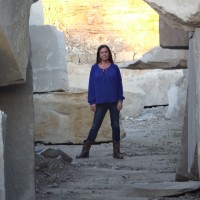 Catherine Bowman is the award-winning author of 1-8OO-HOT-RIBS, Rock Farm, Notarikon, The Plath Cabinet, and most recently Can I Finish, Please? She also edited Word of Mouth: Poems featured on NPR'sAll Things Considered. Her poems have appeared inThe New Yorker, Ploughshares, The Paris Review, The LA Times and Best American Poetry among other journals. She lives on a farm and teaches literature, writing, and poetry at Indiana University.​

feature image via Time.