The month of May brings us a poem of the month as well as a poet of the month—enjoy The Feast, a poem in four parts, one bite at a time.
---
1. Early Spring

Here we are, far away from the library
of want, the documented recordings
of debate and appetite, the archive
of 10,000 textures. Far from storms
labeled and qualified, every variety of prairie
lightening boxed, rain categorized, charted
rhino to pale blue egg, the four by five
swatches alphabetized into treasury.
So that we find ourselves at daybreak
in the unnamable field, walking first
along the marshland, then to an open
shoreline in spring's same old same old world.

Two horseshoe crabs mate, become
something else in the slow tidal wash.
Rabbits, flowers, seabirds and wind
intertwine into what cannot be
contained. The sea grass sways
with the sea clouds in time—
The clouds above all sinew
and hallelujah—This is desire.
But you won't find it listed
In the compendiums
of sighs, blows, and whispers.

O no you won't

find it

O no you

won't

find it.

---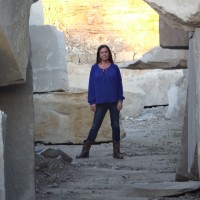 Catherine Bowman is the award-winning author of
1-8OO-HOT-RIBS
,
Rock Farm
,
Notarikon
,
The Plath Cabinet
, and most recently
Can I Finish, Please?
She also edited
Word of Mouth: Poems featured on NPR's
All Things Considered. Her poems have appeared in
The New Yorker
,
Ploughshares
,
The Paris Review
,
The LA Times
and
Best American Poetry
among other journals. She lives on a farm and teaches literature, writing, and poetry at Indiana University.​
feature image via Wired.