". . .  at the midpoint /of summer, /the tomato, /star of earth, recurrent /and fertile /
star, displays / its convolutions, /its canals, /its remarkable amplitude /and abundance, . . ."  from Ode to the Tomato by Pablo Neruda
It wasn't until I left my childhood home in a suburb of New York City to attend college that I ate my first real tomato. Growing up, the only tomato I had ever tasted was available year-round from the grocery store, packaged in plastic wrapped cardboard three-packs. They looked anemic and tasted like cotton batting. No wonder I hated tomatoes and refused to eat them unless they came in the form of a sauce, from a jar. 
Then, one day, a friend took me to a roadside stand on a rural stretch near Albany, New York. "I'm about to change your life," he said when we got home.  He sliced open a beefsteak tomato, sprinkled the cut side with salt, and handed it to me. He was right. The flavor of that first real tomato is imprinted on my taste memory.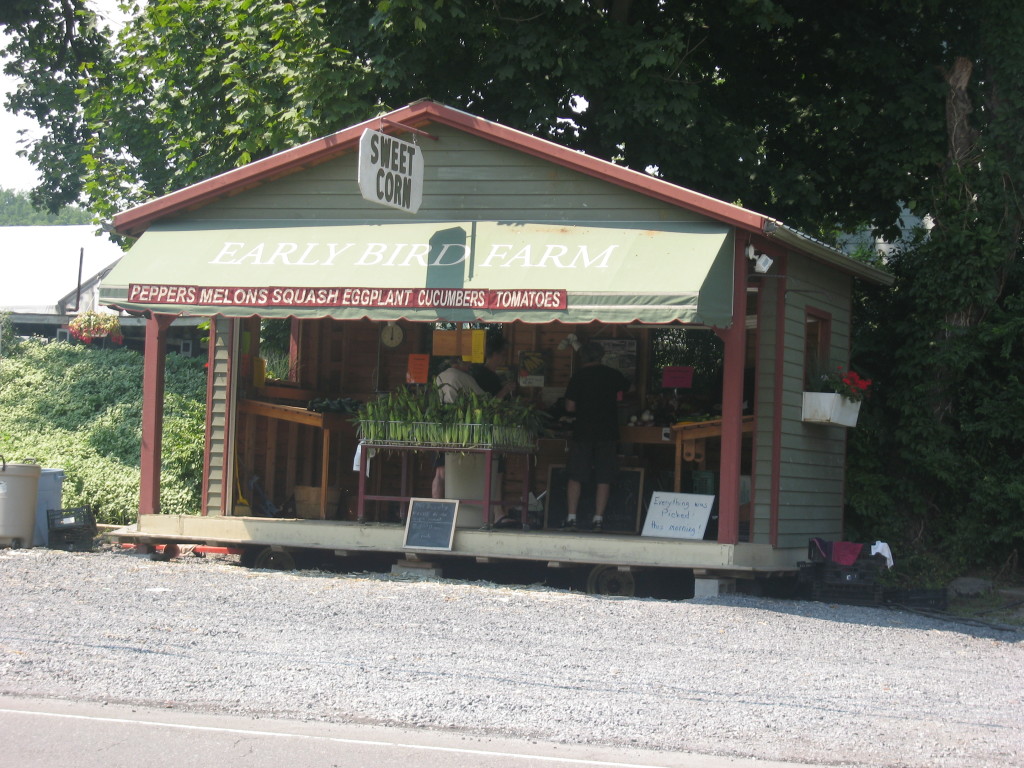 Roadside stands are commonplace in rural parts of New York and probably elsewhere as well. Oftentimes they run on the honor system. The farmer displays produce on a wooden table with a tin can beside a handwritten sign that lists the prices for the day's offerings.
In New York City, we can count on roughly 50 farmers markets to approximate the experience of visiting a roadside stand.  This year, the New York City Greenmarket is celebrating 40 years of making fresh produce available to city dwellers. Here's how GrowNYC Executive Director, Marcel Van Ooyen describes the first market day:
Forty years ago this July, Greenmarket founders Barry Benepe and Bob Lewis organized a small group of farmers to truck their fresh produce into the city and set up shop in an empty parking lot across from the Queensboro Bridge. It was an experiment of sorts; to see if New Yorkers, dwellers of the concrete jungle, would respond positively to buying farm fresh produce from the region in an outdoor market space. When the farmers' tables were empty within a few hours, it was clear that they had struck a chord with residents.
GrowNYC is planning many activities to mark this anniversary. You can read all about them here. I'll be part of the celebration by once again serving as the market's poet laureate. New School poetry professor Elaine Equi's "Flavor of the Month," her celebration of rhubarb, is going to kick things off.  You'll find some of last year's poems here.
Of course the best way to celebrate the market is to shop there. I promise that if you do you'll never eat an out of season tomato again.