I don't have beef with beef, herds grazing in open
fields, their fat, speckled offspring curled in clover
blinking, but hog lots can go, the stink—confinement,
slaughter, intelligence of pork—The smell of money,
my dad always said, like he said when he farted,
Barking spiders. We try not to breathe, look for wind
shift, heat to lift, any other crops like corn. You have
beef with cars that attempt to weave through a queue
of spandex, helmet, creatures powered by human
legs, 10,000 bikes strong, or is it 15,000, or maybe
20,000—no one counts heads, maybe not even the
police. The cyclists ahead of us have beef with
potholes, cracks, entire lanes of concrete dissolving
into sand. I have beef with the way I think sometimes,
wishing those thoughts could unhost me and find
host in someone else. Where are we going? I say
aloud because I haven't eaten in hours and the inner-
outer filter is gone. The road curves, a hill, and for
miles we're going somewhere but never arrive—all
those black eyes staring, all those mouths working
without talk, all those weirdos all around us not saying
a word. I say, I could kill for a hamburger. After we've
set up camp, you bring me one with extra ketchup
and around a bite, I say, Thanks.

---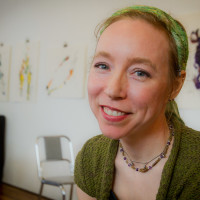 Laura Madeline Wiseman is the author of over twenty books and chapbooks and the editor of Women Write Resistance: Poets Resist Gender Violence (Hyacinth Girl Press). Her recent books are Drink (BlazeVOX Books), Wake (Aldrich Press), Some Fatal Effects of Curiosity and Disobedience (Lavender Ink), and the collaborative book The Hunger of the Cheeky Sisters (Les Femmes Folles) with artist Lauren Rinaldi. Her work has appeared or is forthcoming in Prairie Schooner, Margie, Mid-American Review, The Iowa Review, Calyx, Ploughshares, and Feminist Studies. Currently, she teaches English and Women's and Gender Studies at the University of Nebraska-Lincoln.
feature image via Nubia Restaurant