The corn is green. The shoulders and ditches are
green. Some of the jerseys are green, some of the
flags, seventeen helmets this hour, the Martian on our
bag. A truck that passes us, green, a kokopelli sign
for kiwi-greens smoothies, green, the bike band, our
wrist band, the trees that rise and fall along the hills,
the windbreaks, the bushes at fence line of a farm
where we lie in the shade on thick, long grass, me
eating green pumpkin seeds from their green sack
and you sipping lime sports drink, telling me how
you're going to buy me avocados to salt and spoon,
mangos that I can strip the peel with my lips and
teeth, a watermelon, a honeydew—though we have
neither knife, nor quick-dry towel. We're both wearing
underwear, not aware commando is the choice to
choose. I never eat enough or often enough and so
crash on small town lawns, on the parking as
everyone pedals by, honking their green horns, the
traffic lights always green for cyclists, the Irish
overnight town festive with shamrocks, serving green
beer with breakfast, with lunch, with slices of
grasshopper pie. Can I get you anything? you say as
you turn to trot off to a line of green porta potties, to
fill your green water bottle, and spend a little green. I
shake my head, more green miles to go today, many
green miles tomorrow. I want only our green tent, my
green sleeping bag, my green tee-shirt, to change
my belief system to, Seasoned.
---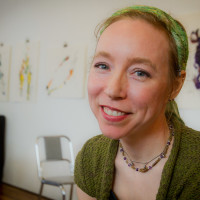 Laura Madeline Wiseman is the author of over twenty books and chapbooks and the editor of Women Write Resistance: Poets Resist Gender Violence (Hyacinth Girl Press). Her recent books are Drink (BlazeVOX Books), Wake (Aldrich Press), Some Fatal Effects of Curiosity and Disobedience (Lavender Ink), and the collaborative book The Hunger of the Cheeky Sisters (Les Femmes Folles) with artist Lauren Rinaldi. Her work has appeared or is forthcoming in Prairie Schooner, Margie, Mid-American Review, The Iowa Review, Calyx, Ploughshares, and Feminist Studies. Currently, she teaches English and Women's and Gender Studies at the University of Nebraska-Lincoln.
feature image via FSU News.