Sweet Bell Pepper

As if you'd walked straight into this room
from a sweltering field, not stopping to wipe

the sweat from your muscled, aching back,
burnished, burning misery of lugging laden

crates in 110-degree heat. Fruit suited up
for gym class in scarlet bloomers concealing

white veins, seeds like a spray of ray-less tansy.
Buxom capsicum, you're not blushing;

your amplitude's noted as you belt out
Red, Red Wine as if this table's a karaoke

dive bar, all-night $2 wells. You feel so fine,
you partial bust of Venus, Archaic Torso

of Scarlet, you with your cheery thighs
like Picasso's acrobats, that briefest period.

You the weepy drip no mother of mine
would speak of. Glint in the baby-making

suite. You: curvaceous darling suggesting
a womb, fear's pulsing bulb, an emergency,

a vermillion bird on a night with no moon.

---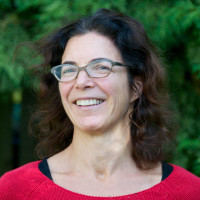 Martha Silano's books include Blue Positive (Steel Toe Books), The Little Office of the Immaculate Conception and Reckless Lovely(both from Saturnalia Books), and What the Truth Tastes Like (Two Sylvias Press). She also co-edited, with Kelli Russell Agodon,The Daily Poet: Day-By-Day Prompts For Your Writing Practice. Martha's poems have appeared in Poetry, Paris Review, North American Review, and elsewhere. She edits Crab Creek Review and teaches at Bellevue College.
feature image via The Daily Miff.