Quick Quiche Ideas

I don't actually fancy quiche
but do not unsubscribe. Starred
in my inbox: You can't go wrong
with these brunch favorites!
Our recipes will keep you happy,

not sporting, across your abdomen,
yards of gauze bandage, not
negotiating a low platelet count.
Hundreds of quiches, one for each
going-about-its-business ant

that lands in an antlion trap. Chill
dough, roll out to eleven inches,
avoid stretching and tearing, drape
over a pie plate, decorate
with little half moons.

Today I will not be making quiche.
Today I will relish my neighbor's roof,
his shuttered windows. All day
I will look forward to being delighted
by his half-obedient dog, Lorenzo.

---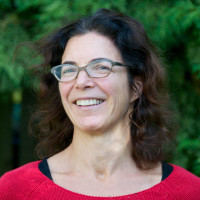 Martha Silano's books include Blue Positive (Steel Toe Books), The Little Office of the Immaculate Conception and Reckless Lovely(both from Saturnalia Books), and What the Truth Tastes Like (Two Sylvias Press). She also co-edited, with Kelli Russell Agodon,The Daily Poet: Day-By-Day Prompts For Your Writing Practice. Martha's poems have appeared in Poetry, Paris Review, North American Review, and elsewhere. She edits Crab Creek Review and teaches at Bellevue College.
feature image via Food to Love.