Deep Pockets

Once, I had the opposite. Concave, depthless
sandbars. Two dry riverbeds, pair of empty slits.

Every first of the month, the State of Oregon,
Department of Human Services, placed $432.00

into my account. Because I worked part-time
as a clerical specialist for Children's Services Division,

mostly I answered the phone, fielded calls to caseworkers
from moms and dads wanting their children anywhere

but in foster care, desperate to explain how the burn mark
got there, how they'd had three weeks in a row of clean UAs,

how it was all a mistake. I answered the phone for two hours;
the other two I typed reports: inappropriate touching, crack-

addicted babies, methadone treatment plans, mothers
who were wards of the court who now had wards-

of-the-court children. By the seventh day of every month
I was broke, living on Top Ramen, Kroger spaghetti,

Kroger spaghetti sauce. A friend of a friend's father owned
a bakery. On the best mornings, he'd arrive in the pre-dawn

dark, place the reject bread, crusty and warm, on the counter.
On those mornings my roommates and I would wake to sustenance

in the form of a half dozen heavy, misshapen slabs.
Some evenings, a different friend of a friend would arrive

with a box of not-quite-perfect chocolate truffles.
That year I lived on sugar and starch, the loftiest loaves,

the most decadent candy, but because I was eating
to keep my stomach from growling, I never felt full.

---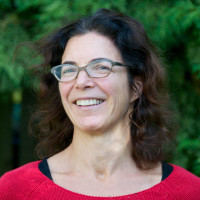 Martha Silano's books include Blue Positive (Steel Toe Books), The Little Office of the Immaculate Conception and Reckless Lovely(both from Saturnalia Books), and What the Truth Tastes Like (Two Sylvias Press). She also co-edited, with Kelli Russell Agodon,The Daily Poet: Day-By-Day Prompts For Your Writing Practice. Martha's poems have appeared in Poetry, Paris Review, North American Review, and elsewhere. She edits Crab Creek Review and teaches at Bellevue College.
feature image via Domesticated Librarian.