CONJURING

I keep bowls.
Beneath my bed.

Full. Of honeyed milk & marigolds.

Stir. Each with a cedar dagger.


See. The heartwoods splinter.

Beneath these roots.

Dirt turns to flesh. I unhinge my jaw.

Each morning the marigolds.

Start. Singing in harmony. With.


The bitter clicks of my tongue.

One will bleed first.
The only refrain.

---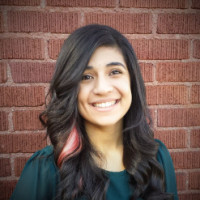 Leslie's poetry has been awarded a National Society of Arts and Letters Chapter Career Award, the David E. Albright Memorial Award, and was chosen by D. A. Powell as the recipient of the 2014 Washington Square Poetry Award. Her poems were also finalists for the 2014 49th Parallel Poetry Award and the 2014 New Letters Poetry Award. She received her MFA from Indiana University and is currently a fellow at the Fine Arts Work Center. Above all, she enjoys lemonade in clear cups and jackalopes.
feature image via Hooks Greenhouse