Cherries Jubilee
Now I can see with awful clarity what she
wanted us to do when she set the flame to
the ladle and David get the dimmer switch
with the gentlest tilt of her wrist trickled the
lit brandy down to a pewter dish, a one-off
piece of Arte Italica, etched in spiny, autumnal
leaves, which she'd won at a Catholic Charity
ball in 1983. She wanted us to see her own brief,
dismal face, and to acknowledge, though grief
had swallowed her, that she was still capable
of pleasure. Our pleasure. Which is the right,
I suppose, of the dispossessed, which is how
she perceived herself. She stood at the edge
of the table and said to us in the low light Eat.
---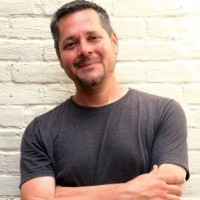 David J. Daniels is the author of Clean (Four Way Books, 2014) winner of the Four Way Books Intro Prize and finalist for the Kate Tufts Discovery Award and the 2015 Lambda Literary Award for Gay Poetry. He is also the author of two chapbooks, Breakfast in the Suburbs (Seven Kitchens Press, 2012) and Indecency (Seven Kitchens Press, 2013), selected by Elena Georgiou as co-winner of the 2012 Robin Becker Chapbook Prize. David teaches composition in the University Writing Program at the University of Denver.
feature image via Foodista.