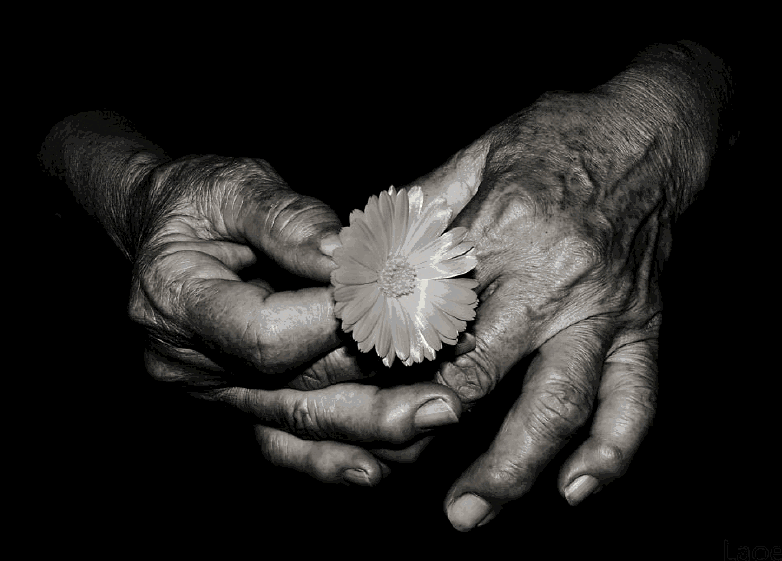 When I was a child, I watched my grandmother gently press black dough between her fingers, forming miniature dogs, pandas, and bunnies. Swiftly, Paw Paw molded the snout of the dog, the slightly hunched back of the sitting panda, and the attentive ears of the bunny. She didn't miss a detail. Using my small, nimble fingers, I would try to imitate Paw Paw's figurines, but my masterpieces were indistinguishable from one another; each had a head like a horse and the stocky body of a well-fed walrus.
The sweet and chewy dessert, called Wu Yen Hang in the Taishanese dialect, had a distinctive, perfumed tealeaf aroma. Made from the Wu Yen Hang plant—which I have only seen as a ground powder—water, brown sugar, and flour, the dessert is anything but the creamy cheesecakes, flaky cream puffs, and buttery flourless chocolate cakes I have savored over the years. I only ate the pieces Paw Paw rolled into small orbs; I couldn't stand the idea of stabbing one of the animals she had so lovingly sculpted for me with a toothpick and crushing it with my teeth. Instead, I saved the little sculptures in a shoebox until they hardened and turned gray.
At twenty-three, I came home to find Mom rolling Wu Yen Hang between her palms until they looked like small sausages. I don't remember her ever making the dessert but she smiled to herself as she placed the pieces on a plate and prepared a pot to steam them in.
"Do you remember this, hon?" Mom asked. "I'm going to surprise Gung Gung tomorrow. When I spoke to him on the phone today, he asked if I could make Wu Yen Hang for him one day. It reminds him of Paw Paw."
---
As the oldest of four children, Mom was forced to grow up fast. While Paw Paw worked, Mom took care of her three siblings. She often carried her younger brother on her back while she went to the market to see what they could afford in groceries with whatever money they had that week. If Gung Gung did not gamble, the family would go to bed less hungry every night. Paw Paw managed to save enough to send Mom to a private nightly Catholic school for a few years, where Mom learned both British English and Mandarin. Paw Paw believed a woman who had an education would always have the option to be independent and pursue her ambitions. As the only person in the family who spoke English, Mom was the one who helped her parents and siblings find shelter, apply for food stamps, financial aid and scholarships, file taxes, and adjust to life in America. Her first and foremost priority, from the moment her first brother was born, became to make her parents' lives easier. Because of Mom, Gung Gung, to this day, has never had to pay a rent, gas, or utility bill.
---
Once the Wu Yen Hang cooled, Mom separated the pieces into trios, wrapped them in Saran wrap, and placed them into a recycled salad container that looked more like an elegant serving bowl.
"Don't they look like pieces of candy?" she asked.
I wondered if she had ever watched Paw Paw turn the dough into animals; or if my mom as a child, had the patience to sculpt it into a rabbit, her favorite animal and imagine its ears twitching to life. But I knew Mom didn't grow up with the luxury to play with her food or to hide her creations in a box.
"I'm so disappointed," Mom said. "Gung Gung asked me to make the Wu Yen Hang with salt instead of brown sugar because he's hyperglycemic, and it doesn't taste good. I don't know how he's going to eat this. I don't even like them. I shouldn't have listened to him."
I ate one. It was as chewy as I remembered, but Mom was right, replacing the sugar with salt made it nearly inedible. I guzzled water to wash down the last couple of bites.
---
Mom has often said Gung Gung feels guilty for how he mistreated Paw Paw while they were young and married. Gung Gung used to hide money between old newspapers, believing it would be a safe hiding place. One day, while Paw Paw was cleaning the apartment, she decided to discard the stack of yellowing newspapers. When Gung Gung came home from an unlucky night of mahjong and discovered his hiding place, along with the three thousand dollars he had saved for gambling had disappeared, he beat her. Mom never forgot the iron smell of Paw Paw's blood in the bedroom when she came home from school that night.
Gung Gung, who has never raised either his voice or palm to me is now in his mid-eighties. He no longer has the spirit of the boy who often ditched school to catch birds in the field. Whenever he complains, he shakes his head in disapproval and tells Mom his grievances with animated fervor. He no longer erupts violently, putting a hand to the cheeks of his children. Now, he calls his children, insisting they visit him in his old age. He delights in the brief phone call he has with Mom at exactly 8:30 PM every day. He is like a child whose worst punishment would be to be left alone and to be given the silent treatment from his family. The abusive man Mom remembers growing up is gone and now, he is just Gung Gung, an amiable man constantly seeking the company from his children.
He walks slowly, but he is steady, and I always hold his hand tight when we walk through a crowd. He and I can't communicate in the same language. He speaks Cantonese, and I, English. Though we hardly speak when we see each other, he always asks to see me over the weekend. During our weekly lunch, while Mom is in the bathroom, I'll hold his hand, caress the thin wrinkles of skin above his knuckles, ask him if he has eaten enough for lunch in crude, childlike Cantonese, and he'll tell me he's full, laughing deeply. Sometimes, he laughs when something is funny. He laughed when Mom, in a rush to answer the door, ran downstairs with her black silk slip on backwards. When he laughs with me though, it is usually after I have given him a shoulder massage as he watches basketball on Mom's television, hug him tightly before watching him enter a building, or stroke his thin, sparse hair after noticing he had gotten a haircut.
I never saw Paw Paw and Gung Gung hold hands or give one another a loving gaze. I never saw Paw Paw stroke the back of his neck as they sat beside each other, nor did I ever see Gung Gung hug Paw Paw from behind as she made him dinner. Sixteen years after her death, Gung Gung still wears his wedding ring. Gung Gung's finger has swollen around the ring so if he wanted to remove it, he would have to cut through the metal. He hasn't dated another woman since Paw Paw has died. Sometimes, while he is sitting in the chair in his living room, he calls Mom and says he can see Paw Paw sitting on the couch in front of him.
"You're hallucinating," Mom tells him. "It's the medication."
Every year, Gung Gung insists on visiting Paw Paw's grave in Kensico Cemetery in Valhalla, New York. Every Mother's Day, Mom, Gung Gung, and I make the two-hour trip to plant flowers on Paw Paw's grave but whenever Gung Gung asks to go more frequently, my mom rents a car to take him.
Even without the sugar, did Gung Gung see Paw Paw sitting in the couch across from him as he took a bite of the Wu Yen Hang? Did he hear Paw Paw in the kitchen singing Teresa Teng songs in perfect pitch while poaching a flounder, chopping chicken, or frying slices of bitter melon with minced pork and black bean sauce in the wok? Did he wish she would emerge from the kitchen in an apron stained with splattered oil, carrying a teapot full of jasmine tea and a plate of steaming juicy tomatoes, fried peppers, and chunks of beef over rice?
Mom left the container open before she went to bed so the Wu Yen Hang would continue to cool. She wrapped some of the sausage shaped Wu Yen Hang in groups of four, a mistake, I assumed. In Chinese, the number four is an unlucky number. The syllable, when said, sounds like the word for "death." I ate the extras.
After Paw Paw died, I stopped speaking Cantonese; Chinese New Year celebrations seemed more like inconveniences than parties. Instead of being proud of my heritage, of the values my ancestors and family held onto to keep them strong, I considered myself Chinese only because of the way I looked. I wanted to be accepted as an American instead of being considered "foreign." I wanted people to assume English was my first language. Even though it was, people often began greeting me using any Chinese words they knew or mockingly uttered noises that sounded Cantonese to them. Consuming the Wu Yen Hang made me remember being with Paw Paw as a little girl, when I deserved to be Chinese.
When Mom called Gung Gung to ask how he liked the Wu Yen Hang she had made, she expected him to tell her he had made a mistake; he should never have asked her to replace the sugar with salt. He was typically picky about his food, and never hesitated to complain when a simple tomato and beef over rice dish or noodle soup tasted better at another restaurant. Instead, he asked Mom to bring him more the following week. How could he possibly rave about the salty Wu Yen Hang, when they were inedible? Every salty one I ate felt like a kind of punishment, and Gung Gung enjoyed dozens of them while watching basketball.
He continued to eat dozens more of the salty Wu Yen Hang pieces for weeks, until Mom had gotten too tired or busy to make them. I realized what Gung Gung craved most was not the sweet, chewy, and slightly roasted tea flavor of the Wu Yen Hang Paw Paw used to make. It was her forgiveness. Perhaps ingesting the salty dessert was his way of doing penance. And eating the extras was my way.
---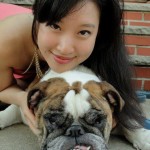 Danielle Elizabeth Chin has published articles on The Best American Poetry Blog and an original song on Side B Magazine. She received an Honorable Mention from the American Literary Merit Award in 2013 and The John Costello Award for Creative Nonfiction in 2012. At Marymount Manhattan College, she served as Chapter President of Sigma Tau Delta and is also a member of Omicron Delta Kappa and Alpha Chi Honor Societies. She has an MFA in creative writing from The New School, where she has worked as a T.A. for Sigrid Nunez and a R.A. for David Lehman.