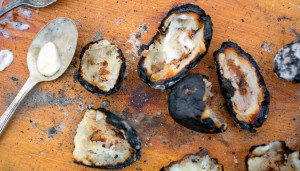 Some kids grow up with backyard grills. Others have campfires, clambakes or pig roasts.

In postwar Brooklyn, my parents had potatoes they roasted in bonfires they built with other neighborhood children in empty lots.

Roasting potatoes in the ashes is a longstanding practice that became especially prevalent in New York during the Depression, when people were hungry, potatoes cheap and empty lots around the city plentiful, said Annie Hauck-Lawson, co-editor of the 2010 book "Gastropolis: Food and New York City."
To read the full story please visit the NY Times.