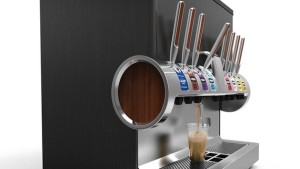 Selling massive volumes of colored, sweetened, fizzed-up tapwater at a fat markup isn't what it used to be. US soda sales declined for the 10th straight year in 2014. For a while, beverage giants Coca-Cola and PepsiCo could turn to diet soda for relief. But now, the artificially sweetened stuff is losing popularity even faster than regular soda—diet beverage sales are down nearly 20 percent since their 2009 peak and are expected to plunge an additional 5 percent this year.

Enter the new savior: "craft soda." Just as the globe's two dominant beer conglomerates are seeing their own US sales decline while dozens of upstart brewers stage a fast-growing craft-beer renaissance, Big Soda has watched small players like Jones Soda and Reed's grow rapidly, defying the long-term soda slump…

PepsiCo "craft" line includes flavors like black cherry with tarragon, orange hibiscus, pineapple cream, and agave vanilla cream.
To read the full story please visit Mother Jones.