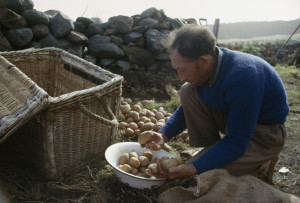 For those who dream of getting away from it all and living a simpler life of growing your own food, fishing for your nightly dinner, cooking with your neighbors, and living off the land, the Royal Institute of British Architects has a challenge for you.

Welcome to the tiny volcanic islands of Tristan da Cunha, the most remote populated place on earth. Alone in the South Atlantic Ocean 1,750 miles from South Africa (about a week by boat, depending on the weather), the residential population of 286 British citizens live "far from the maddening crowd" as its official website claims…

…Volcanic rock isn't known for breeding native plants (almost no fruit grows there) and the people of Tristan da Cunha grow lots and lots of potatoes, a dietary staple. Because everything not native to the island, from marshmallows to medicine, must be sailed in, Tristanians worry that their way of life may be in danger in a world of dwindling resources.
To read the full story please visit The Plate.