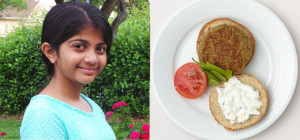 Timothy Burke describes his trick for making spring rolls with rice paper, which is notoriously difficult. With a bit of translation from his mom, the shy eight year old said, You dip them in a wide plate of hot water, and turn them, then take them out of the water and place them on another plate before they get soft. Then you add the vegetables and roll it up fast. Easy.

Tim's winning recipe, Vegetable Confetti Spring Rolls, won him the spot in the fourth annual Kids Healthy Lunchtime Challenge Cookbook, a project of the White House and First Lady Michelle Obama's Let's Move project.
To read the full article please visit Civil Eats.