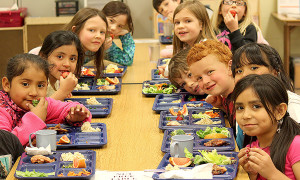 Healthy school food for all children could be on the congressional chopping block this fall, which would be disastrous for the millions of children who rely on the nutritious meals they eat at school…

…We are facing a national health crisis that is directly linked to our diets, and staying committed to nutritious school food is key to combating this epidemic. The Centers for Disease Control reports that one in three of our nation's children are overweight or obese, and the American Heart Association notes that this generation of children will have shorter life expectancies than their parents due primarily to diet-related disease. School food is a crucial part of the solution. More than 30 million children eat school lunch every day, and over 13 million children eat school breakfast, and for many low-income students it is their only access to nutritious meals.
To read the full article please visit Food Tank.