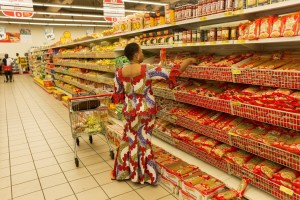 Grocery shopping, start to finish, is a cunningly orchestrated process. Every feature of the store—from floor plan and shelf layout to lighting, music, and ladies in aprons offering free sausages on sticks—is designed to lure us in, keep us there, and seduce us into spending money…

…After the one-way front door, the first supermarket feature you inevitably encounter is the produce department. There's a good reason for this: the sensory impact of all those scents, textures, and colors (think fat tomatoes, glossy eggplants, luscious strawberries) makes us feel both upbeat and hungry. Similarly the store bakery is usually near the entrance, with its scrumptious and pervasive smell of fresh-baked bread; as is the flower shop, with its buckets of tulips, bouquets of roses, and banks of greenery. The message we get right off the bat is that the store is a welcoming place, fresh, natural, fragrant, and healthy, with comforting shades of grandma's kitchen.
To read the whole article please visit The Plate.