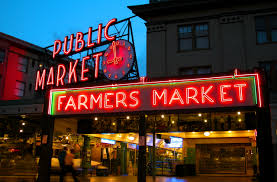 One hundred years ago, before Walmart and Whole Foods and Albertson's and Kroger, grocery shopping was a very different experience.

Many American city dwellers flocked to the indoor public markets — huge, high-ceilinged halls lined with vendors hawking everything from fresh fruit and vegetables to full-service meat and fish counters.
To read the full story please visit The Salt.