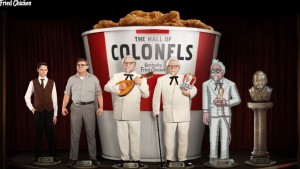 Fast food restaurants, now more desperate than ever due to plummeting sales, are taking a note out of the Night King's book and unleashing legions of long-dead mascots on the world.

Here are a few characters you may have seen reanimated in new, terrifying forms: McDonald's original pudgy, buck-toothed Hamburglar (retired since 2002) returned in May with chiseled cheek bones and skinny jeans. That same month, Burger King re-introduced its masked monarch, not seen since 2011, who is now being spotted all over the damn place. And KFC, too, recently released a renewed mascot of an actually deceased person, Colonel Sanders, who's now less happy grandpa, more Butch Cassidy.
To read the full story please visit Grist.org.