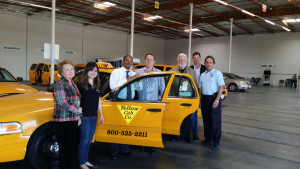 We waste 2.8 trillion pounds of food every year, worldwide. Meanwhile, 805 million people don't have enough to eat, so it's no surprise that here at The Plate, we talk a lot about food waste.

There is no one simple solution, but Dr. Eric Handler, Orange County Public Health Officer, is trying something new–connecting the dots between gathering extra food, identifying those in need, getting it to them, and making it easy for food service folks to participate. He's the co-chair of the Waste Not OC Coalition (WNOC), which he hopes can serve as a model elsewhere…

Handler and his colleagues have managed to bring together food producers (restaurants, grocery stores, even a county jail) together to collect unused food and distribute to a host of local pantries in Orange County. Until recently, the program operated with virtually no funding and no full time staff.  Despite those obstacles, and through any means necessary, down to using the local cab company for pickups, WNOC has managed to make a big dent in hunger in the county.
To read the full article please visit The Plate.