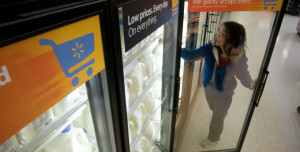 Walmart announced yesterday that, beginning July 1, it will improve worker conditions by better regulating the temperature inside its stores, replacing Celine Dion's greatest hits with a corporate DJ, and allowing associates to wear jeans to work. Walmart will also be bringing back the slogan: "Our people make the difference."

The news of these fairly superficial improvements follows the more substantive announcement in February that the company will raise its minimum wage to $9 an hour across all stores.

Joann Lo, co-director of the Food Chain Workers Alliance, says that no matter how substantial, it's not enough just to focus on the people who work inside Walmart's mega-stores. She's also interested in the long, complex supply chain that allows the world's largest retailer to sell around 25 percent of all groceries sold in the United States, and closer to 50 percent in 29 markets nationwide.
To read the full article please visit Civil Eats.