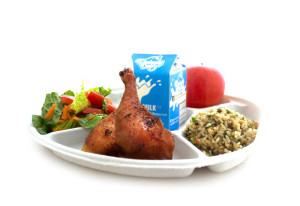 School administrators in New York City, Los Angeles, Chicago, Miami-Dade, Dallas and Orlando in 2012 formed the Urban School Food Alliance. And in May, they announced that they were ditching polystyrene lunch trays and replacing them with compostable lunch plates. It's a significant move since all together, the schools in the Alliance serve up 2.5 million meals a day…

The new plates, by comparison, are made of recycled newsprint and can break down within a matter of weeks in commercial composting facilities. They're also only a tiny bit more expensive, at $0.049 apiece compared with $.04 apiece for the plastic trays.
To read the whole story please visit The Salt.