And Then There Was Cake in the Garden
Rose can't eat the cake.
Rose can't eat the cake with sugar carrots.
And there are beets made of deep red icing
that Rose can't eat and not to forget
the potatoes and zucchini and asparagus
and tiny fingerlings and perhaps
a garlic fond or two made of fondue
that Rose can't eat.
It's been said the icing is green.
Whispers have reached the court
of chocolate every other
tongue will touch. Chocolate!
Oh Rose you will be baked bread
and brownies; turnips pickled
in your name.
Rose you will get a silver dollar from '72,
colporteurs in the street
chant Frere Jacques just for you.
Rose with your blue bucket, yellow gloves,
on this warm and falling night, you will make
for us angels
unconsecrated by cake.
---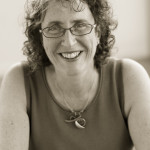 Deborah Bacharach is the author of After I Stop Lying (Cherry Grove Collections, 2015).  Her poems have been published in journals nationally and internationally, including The Antigonish Review, Arts & Letters, Calyx, Cimarron Review, New Letters and Poet Lore. She is a college writing instructor, editor, and tutor and lives in Seattle with her family.