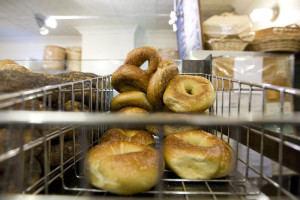 One of the first life lessons I picked up in college was this: The secret to the shiny crust and chewy bite prized in New York bagels is boiling. Any other way of cooking them, my Brooklyn born-and-raised, freshman-year roommate told me, is simply unacceptable…

According to popular mythology, the uniquely superb texture of the New York bagel has to do with New York City's water — specifically, its low concentrations of calcium and magnesium, which make it softer.
To read the full story please visit The Salt.