II.
To have in one man's head
a record of the moon
is not nothing

It is not to be God
nor have his ear
but it is not nothing

It is not the nothingness
the crew takes to bed
the gut nothingness

My father stands on the deck
of the ship
as though part
of the ship

and warns the natives like a father
no a preacher
is there a difference

I admire his conviction
that we are not
to be punished

and feel their anguished doubt
that judgment would
come in the erasure
of the moon

darkening this land of parrots
which we have claimed
like a lost watch

through the shadow of the earth
its greatness which cannot
but result
however momentarily
in invisibility

Regardless the natives left

Our men waited
for the moon to turn red
and drank the last

of the treacle

---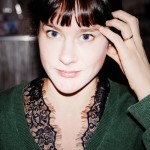 Alison Powell's first collection, 
On the Desire to Levitate
, won the Hollis Summers Poetry Prize and was published by Ohio University Press in 2014. She has received awards from institutions including the Vermont Studio Center, Millay Colony of the Arts, Fine Arts Work Center of Provincetown, and elsewhere; work has appeared in 
Boston Review
, 
AGNI
, 
Guernica
, 
Black Warrior Review
 and elsewhere. She is Assistant Professor of Poetry at Oakland University, and lives in southeast Michigan with her husband and son.These poems are from her second collection in progress, which draws on Millerism, Noah's Ark, extinction, Christopher Columbus, climate change, and other apocalyptic matters.