As kids jettison their Happy Meals for the playscape.
A heap of reddened fries, jagged nuggets, stained wrappers
hoarding the tabletop, and so I try leaping into Kierkegaard's Fear
and Trembling, only to hear my two-year old weeping
from the webbed bridge that will take her from one dark tunnel
to another, and her older brother and sister,
poised atop the slide, impatient for her arrival.
If I weren't past the Prologue, deep into the Prelude,
I'd get up and reach to comfort or save, but I can't
leave these variations of Abraham's intended
sacrifice of Isaac: better to hate me not God,
like a weaning mother who blackens her breast, so the
child will hate it, while still loving the unchanged mother.
---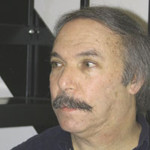 Leonard Kress has published poetry and fiction in Massachusetts Review, Iowa Review, Crab Orchard Review, American Poetry Review, Harvard Review, etc. His recent collections are The Orpheus Complex, Living in the Candy Store, and Braids & Other Sestinas.  He teaches philosophy, religion, and creative writing at Owens College in Ohio.