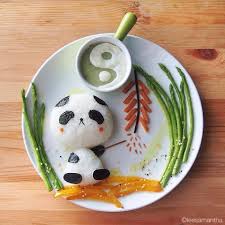 While many kids are lucky if their parents send them off to school with a ham and cheese sandwich and an apple in their packed lunches, for some, the midday meal is a work of art.

Some parents include paper napkins with hand-drawn illustrations so elaborate that children have preferred to use their own clothing to wipe up spills. Others decorate the once-boring brown paper bag with fanciful dragons and scenes from Star Wars or re-create great works of art in food. (Think Vermeer's Girl With A Pearl Earring rendered in sushi.)
To read the full article and view these art projects visit The Salt.