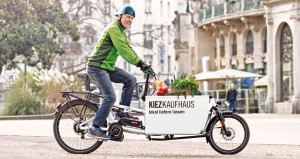 In the latest installment in our series, Everything In Europe Is So Freakin' Neat, we bring you a German online startup that offers same-day delivery of products from local stores — by senior citizens on cargo bikes! Yup: You don't have to get up from your computer to get groceries; no carbon is emitted in the delivery; and you're supporting local businesses and giving old folks a new life purpose. A truly virtuous cycle. (Ahem.)

The startup, called Kiezkaufhaus (which translates to "neighborhood department store"), was born when project-leader Nanna Beyer noticed a huge problem with online delivery services: The products had to be delivered by truck, often over hundreds of miles, belching tons of climate-changing carbon dioxide in the process.
To read the full article please visit Grist.org.