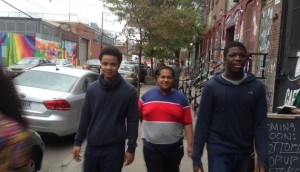 "At 6 a.m., I gotta get my kids up, grab my things. Sometimes I grab a sandwich, sometimes I grab nothing." This is the voice of a mother and resident of Far Rockaway, New York, as recorded by her 18-year-old son Joshua Miranda. He produced a radio segment about her efforts to eat and cook healthy food, in this under-resourced neighborhood on the outskirts of New York City.

According to census data, one in three households in Far Rockaway earns less than $25,000 a year, and the neighborhood would be referred to by many, including the government, as a "food desert" (a term some food activists dislike). Time to cook a meal from scratch or even just sit down to eat is a precious commodity in many households here.
To read the full story please visit Civil Eats.