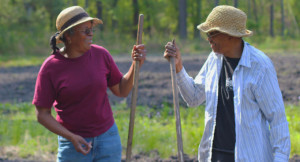 I am standing on the family's land listening to the tiller's engine run. Behind it walks Carol Jackson; her sister, Joyce Bowman, walks behind her, planting sweet potato slips. These two sisters grew up in Burgaw, North Carolina; both became teachers for special needs children and after retirement returned to the land where they were raised to grow organic vegetables together.

They call their farm My Sister's Farm because both are too modest to take credit for the idea and each jokingly blames the other for getting them into it in the first place. They started more than ten years ago, slowly, first to keep busy and active in retirement and then to sell their excess harvest as production grew.
To read the full story please visit Civil Eats.