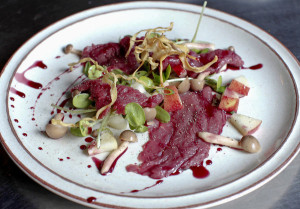 Jeremy Charles tipped a frying pan over a flame and spooned hot butter on some scallops.

"Got a bit of thyme with you?" he asked. Someone passed him an herb bouquet. He dropped it into the pan, and the air was filled with the intoxicating scents of fresh shellfish, hot tea, thyme, butter and wood smoke.

Above him, tantalized gulls hovered.

No, this culinary display did not take place in a gleaming restaurant kitchen. Mr. Charles, the chef at the acclaimed Raymonds in nearby St. John's and a leader in a growing movement to celebrate the cuisine of the North, was so determined to show off the essence of his cooking that he, a fellow chef and two scuba divers had taken a small boat out to an isolated beach covered with rocks, weather-bleached logs and stubborn patches of snow.
To read the full story please visit The NY Times.